Frisch erschienen ist "Zombies", eine monothematische Anthologie über die "Living Dead" der Pre-Code-Horrorcomics. Wie immer wunderbar aufgemacht und herausgegeben von Craig Yoe und Blogger "Karswell". Fragen Sie Ihren Comichändler oder suchen Sie im Netz unter dem Begriff "Chilling Archives of Horror Comics".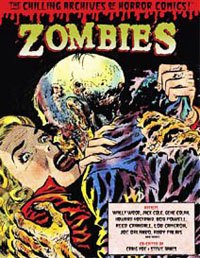 PS Artbooks haben den zweiten Band der CHAMBER OF CHILLS (Harvey) auf den Markt geworfen sowie die ACG-Reihe OUT OF THE NIGHT begonnen. Weitere Bände sind bereits im Druck.
VIRUS, das deutsche Magazin für "The Dark Side of Entertainment", präsentiert in der aktuellen Ausgabe (Nummer 47) ein doppelseitiges Feature über FIFTIES HORROR.
Und eine Nachricht aus der Moderne: Leser Philipp Ost hat im Netz ein Forum für das Genre der "Shadow Manga" gegründet. Wer sich für japanische Düster-Comics interessiert, mag HIER klicken.