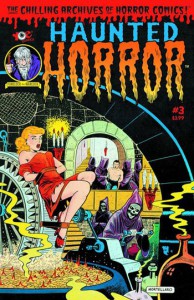 Endlich hingewiesen sei auch auf ein neues, in den USA aufgelegtes Horrorheft: HAUNTED HORROR. Blogger Karswell veröffentlicht hier in Zusammenarbeit mit Craig Yoe Perlen der Pre-Code-Horrorzeit. Die Nummer 3 ist frisch erschienen und liegt auch in guten Comicläden aus!
Die Nachdruckgiganten von PS Artbooks haben mit Band 4 der CHAMBER OF CHILLS die erste Harvey-Horrorserie abgeschlossen. Bis zum Sommer soll nun zügig die nächste Serie WITCHES TALES (Band 2 ist bereits erhältlich) komplettiert werden.
Auch bei den Heften der American Comics Group bleiben sie am Ball: FORBIDDEN WORLDS Vol. 2 ist endlich lieferbar (war schon im Frühherbst versprochen). Ebenfalls im Regal liegen die ADVENTURES INTO THE UNKNOWN Band 3 (überraschenderweise pünktlich).