Ganz im Westen des Landes werkelt der Zeichner Christoph Mueller, der seit Jahren in amerikanischen und französischen Independentmagazinen veröffentlicht. Jetzt hat er sein eigenes Heft mit dem sperrigen, aber markanten Titel THE NINCOMPOOP ("Der Einfaltspinsel") selbstverlegt.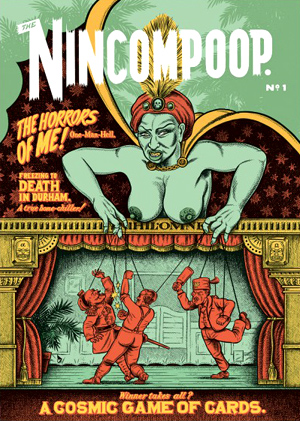 Und das ist Mueller berauschend schön geraten!
Auf 36 farbigen Seiten entfalten sich drei kuriose Kurzgeschichten: In "Freezing to Death in Durham!" mündet ein Zeichnertreffen in den USA in eine Alkoholorgie sowie eine skurrile Science Fiction-Fantasie.
"Cosmic Game Cards" präsentiert uns eine Mystery-Story, in der drei altmodische Abenteurer einem kosmischen
Artefakt nachjagen – und den Preis ihrer Hybris bezahlen.
"The Horrors of Me" schließlich ist schönste autobiografische Demontage aus der Robert-Crumb-Schule der introspektiven Selbstentblößung. Protagonist Christoph ringt mit seinem Selbstekel und versteigt sich dabei in groteske Illusionen.
Muellers Werk ist nicht direkt ein Horrorcomic, aber zeugt von seiner Liebe für klassische US-Comichefte, atmet den Geist früher Underground-Comix und brilliert mit einem an Daniel Clowes und Charles Burns angelehnten Stil. Unsere Empfehlung!
Das auf 500 Exemplare limitierte Heft ist übrigens auf Englisch verfasst (für den internationalen Markt, womöglich ein notwendiger Schachzug). Homepage des Künstlers und Bestellmöglichkeit für THE NINCOMPOOP unter diesem Link.