(aus "Chamber Of Chills" Nr. 22, im August 1951 von Harvey veröffentlicht)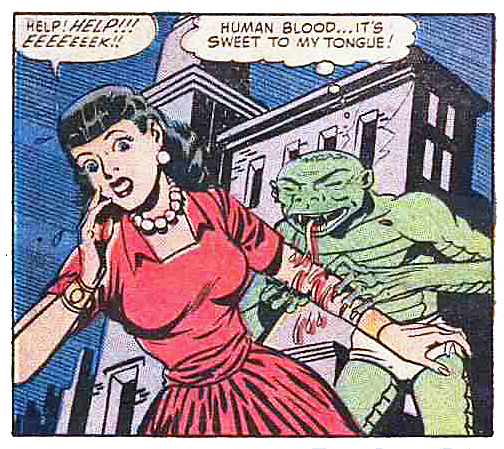 In der Freak Show lebt "Serpentine, the Snake Man" – "Er zischelt, er windet sich, er hat Schuppen wie eine Schlange".
Er hat aber auch eine menschliche Mutter, die er besuchen darf. Also setzt man Serpentine (toller Name übrigens!) in einen Bus, hängt ihm ein Schild um ("Eigentum des Ballantine Brothers Zirkus") und hofft, dass er alleine seinen Weg finden wird.
Tut er natürlich nicht.
Gemeine Menschen jagen ihn aus der Stadt, was den guten Schlangenmann verständlicherweise verbittert und verbiestert werden lässt. Im wahrsten Sinne des Wortes.
Serpentine beginnt zu wildern und Menschen anzufallen – das Menschenblut schmeckt halt so gut (s. Abbildung)!
Schlussendlich will er einen Kreuzzug gegen die Menschen ausrufen, bricht im Zoo ins Schlangenhaus ein und wirbt um Unterstützung. Da ist er bei der Boa aber an die Falsche geraten.
Herrliches Drama, in Szene gesetzt von Rudy Palais. Es gibt keinen guten Scan dieser Geschichte. Da ich sie aber so schätze, habe ich versucht, mit Photoshop mein Bestes zu tun. In diesem Re-Upload eines meiner Lieblinge.
Würgeschlange und Schlangenmann verkeilen sich in tödlicher Umarmung, die herbeieilende Polizei stellt lakonisch fest: Würgeschlange und Giftschlange sind natürliche Feinde. Das hat er wohl nicht gewusst, unser Snake Man! Dummerle.
Sammlerfreunde, aufgepasst. Es existieren ZWEI Hefte mit der Bezeichnung "Chamber Of Chills" Nr. 22. Eines vom August 1951, die zweite faktisch erschienene Ausgabe, ein anderes vom März 1954 – das ist nun die 22. Ausgabe dieser Reihe. An der Numerierung von Comicheften sind schon viele verzweifelt… Aufklärung schafft wie so häufig die GRAND COMICS DATABASE.
Die Cover-Galerie zu allen Heften dieser Reihe finden Sie auf DIESEM KLICK.