(aus "Out Of The Shadows" Nr. 7, im Januar 1953 von  Standard Comics veröffentlicht)
Ein Schauspieler ist bekannt als Horrorstar und steht unter Druck, in seinem nächsten Film mal wieder die Grenzen ausloten zu müssen. Er soll sich gefälligst eine richtig gruselige Maske einfallen lassen. Ratlos irrt er durch die Stadt, da tritt ein Fremder an ihn heran und behauptet, die Lösung zu haben.
Der Schauspieler folgt ihm in die unterirdische Höhle der "Sekte der Hässlichen". Dort steckt man seinen Kopf in eine Art Gesichtspresse – heraus kommt eine seltsame Visage mit schadhaften Zähnen, die wie verkohlt aussieht.
Wenn Sie glauben, das alles sei schon unlogischer Quark, es geht jetzt erst los:
Am Filmset sind alle begeistert, der Streifen wird abgedreht, erst JETZT will der Schauspieler sich seines neuen Gesichts entledigen, das er die ganze Zeit lang offenbar für eine Maske gehalten hat, da merkt er: Die "Maske" geht nicht runter, er ist für immer entstellt mit diesem Gesicht.
Wer sich traut, diese Geschichte zu lesen, in der selbst Botox nicht mehr helfen kann, tue dies nun in unserem FIFTIES HORROR- Vollscan.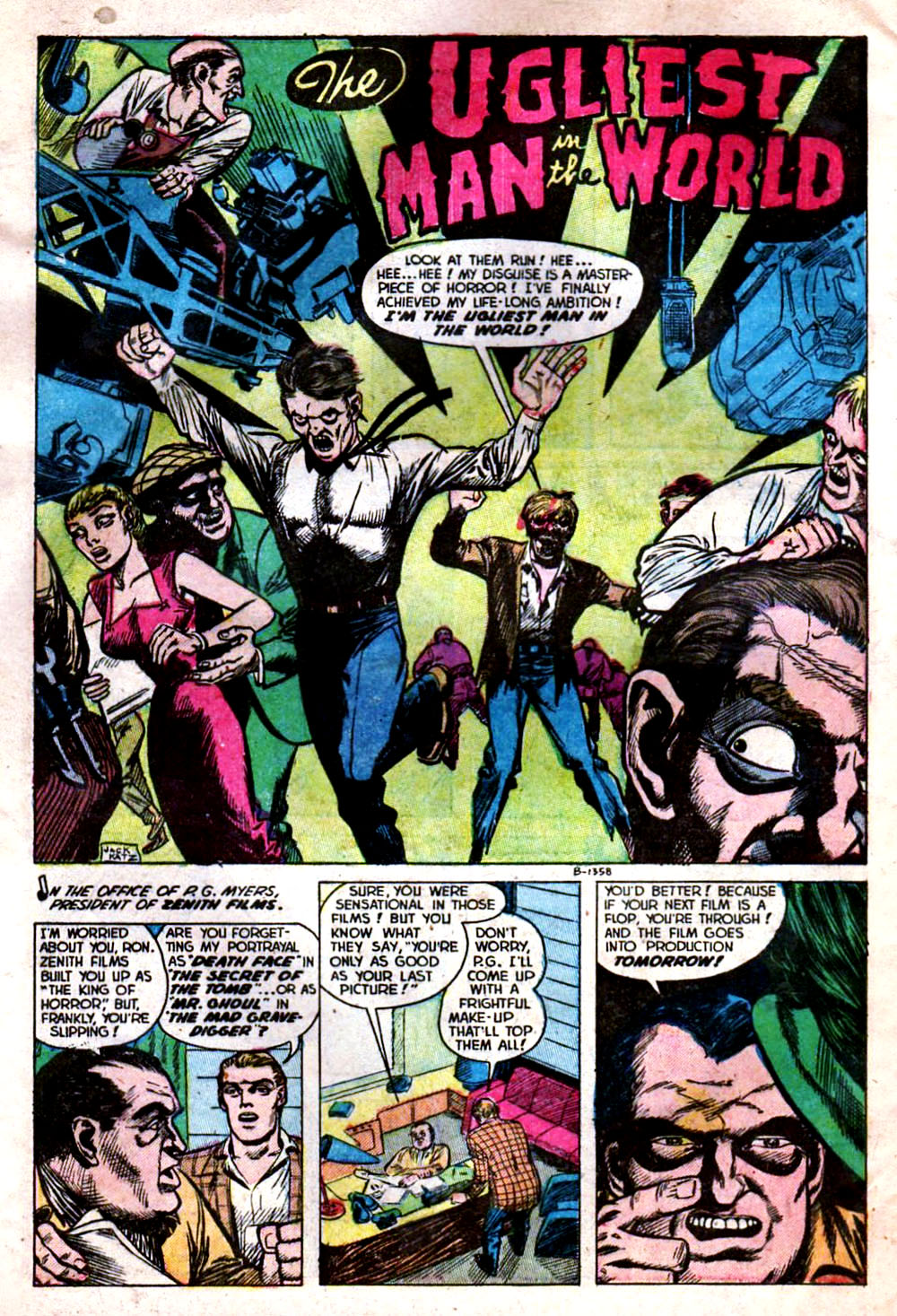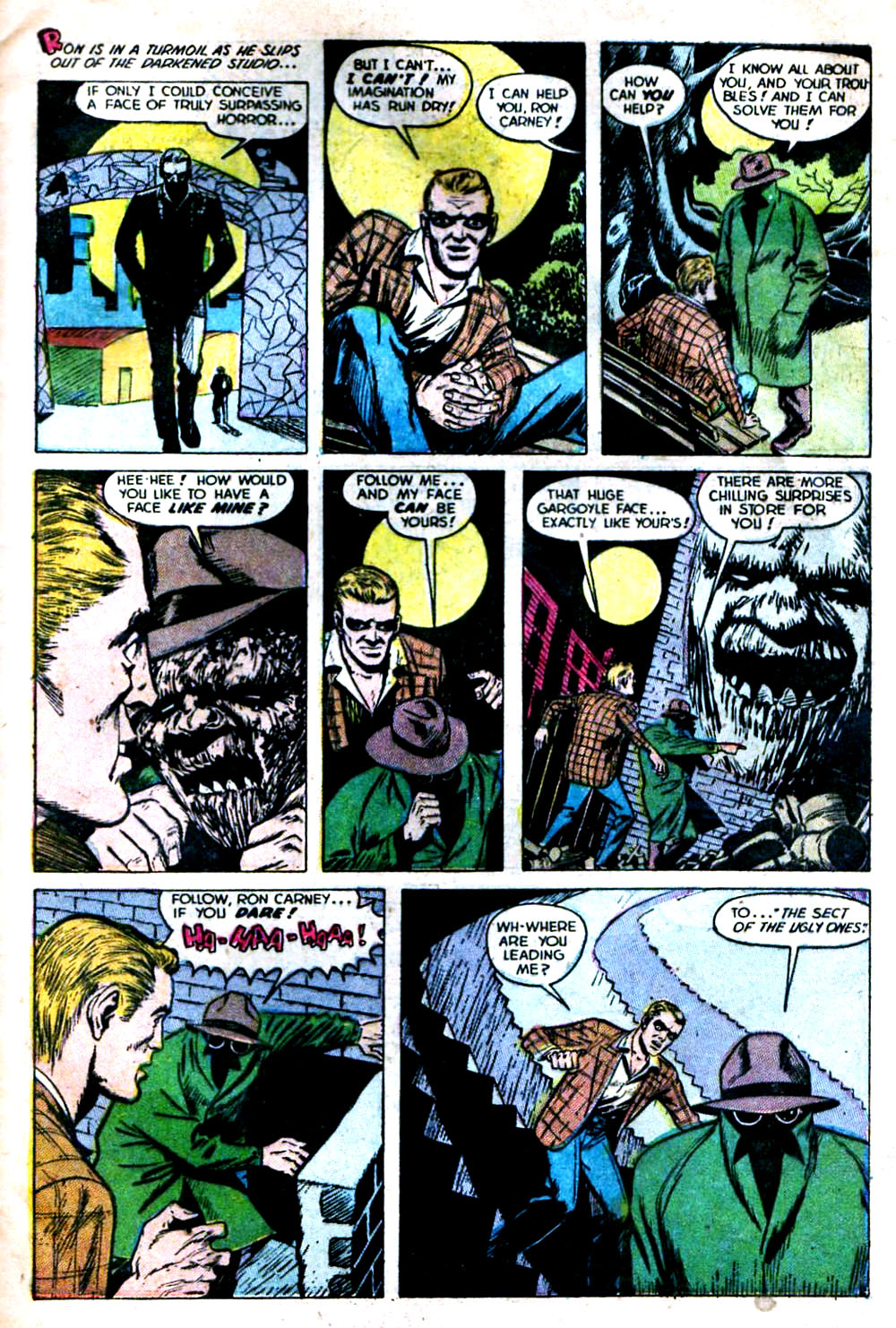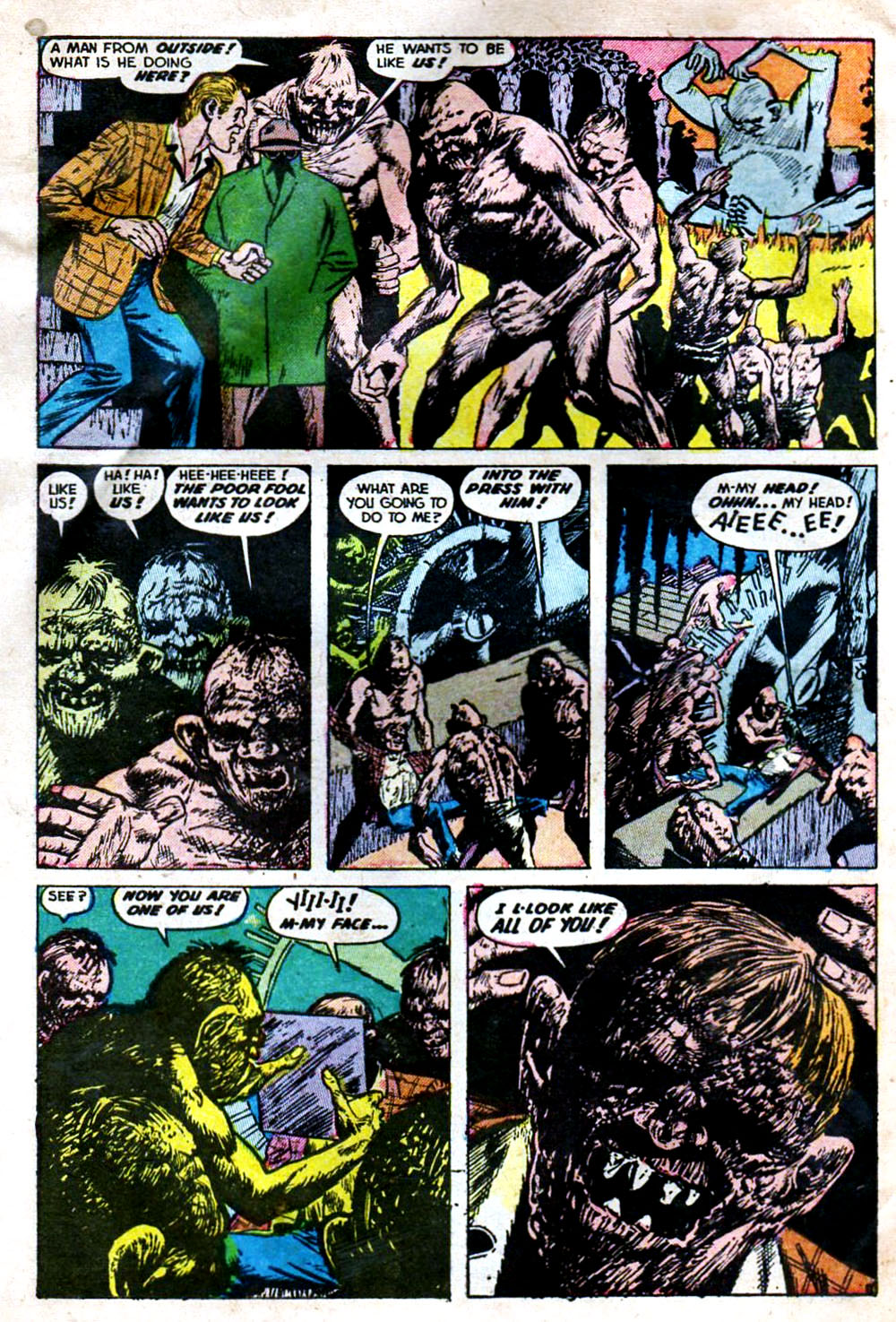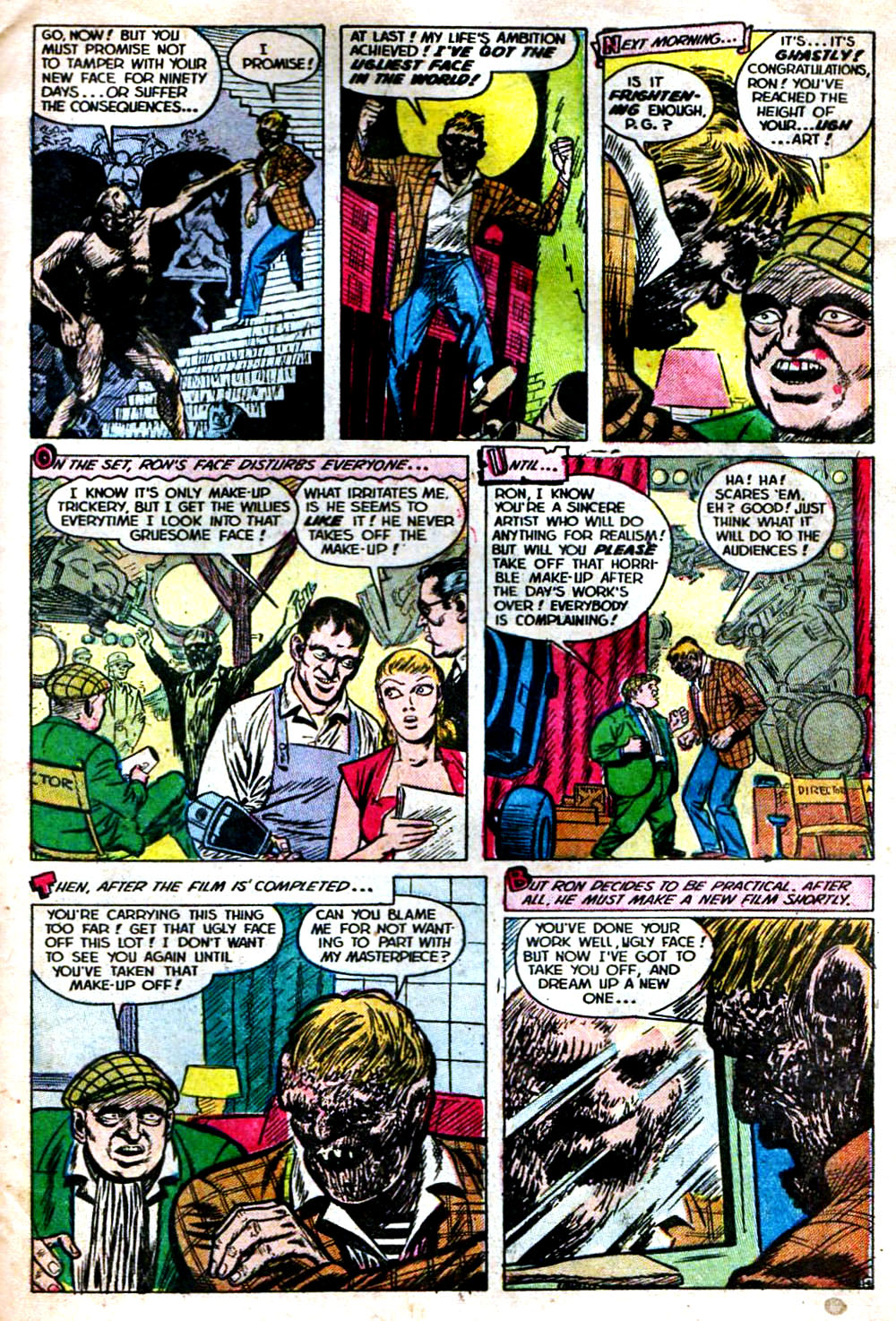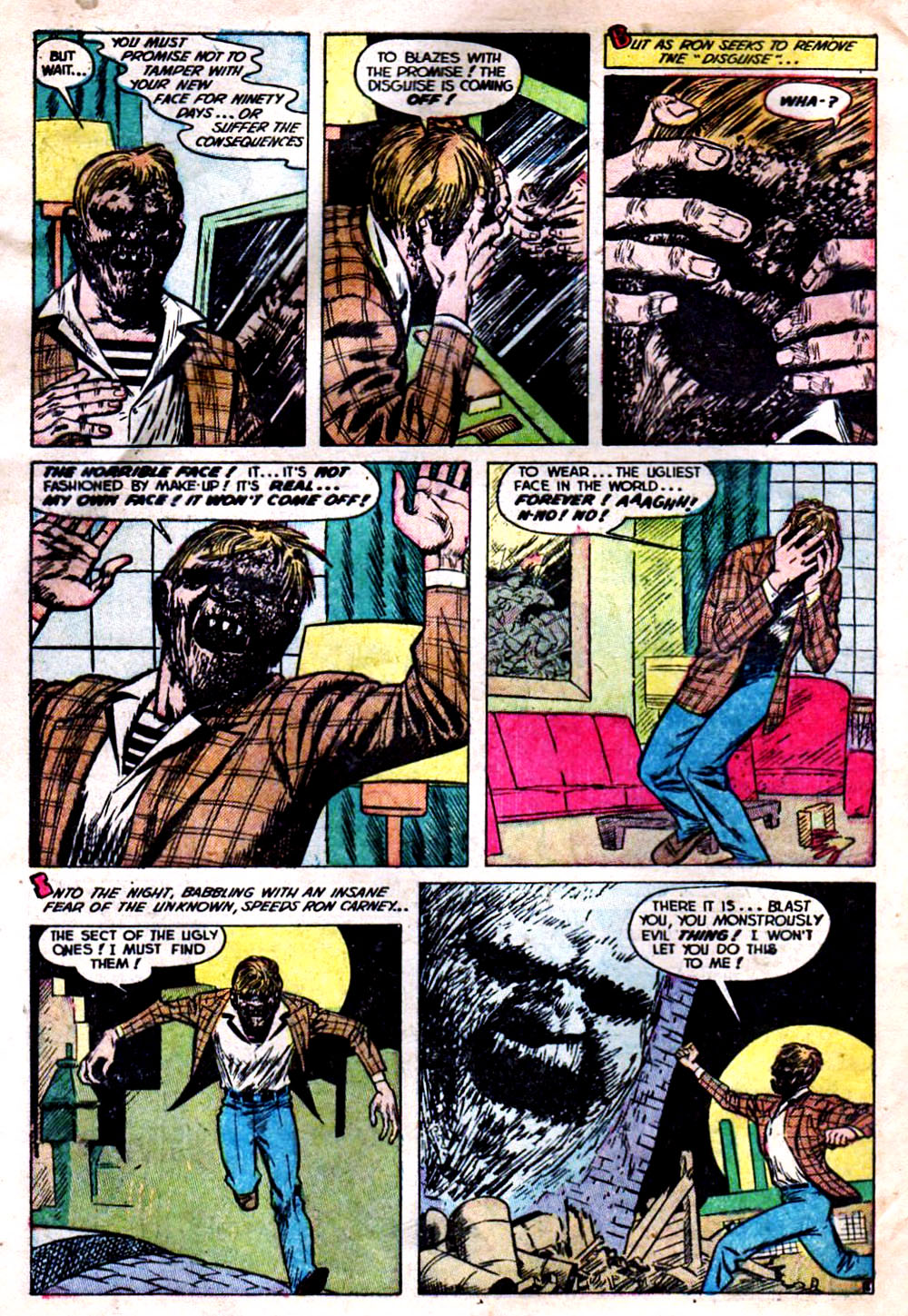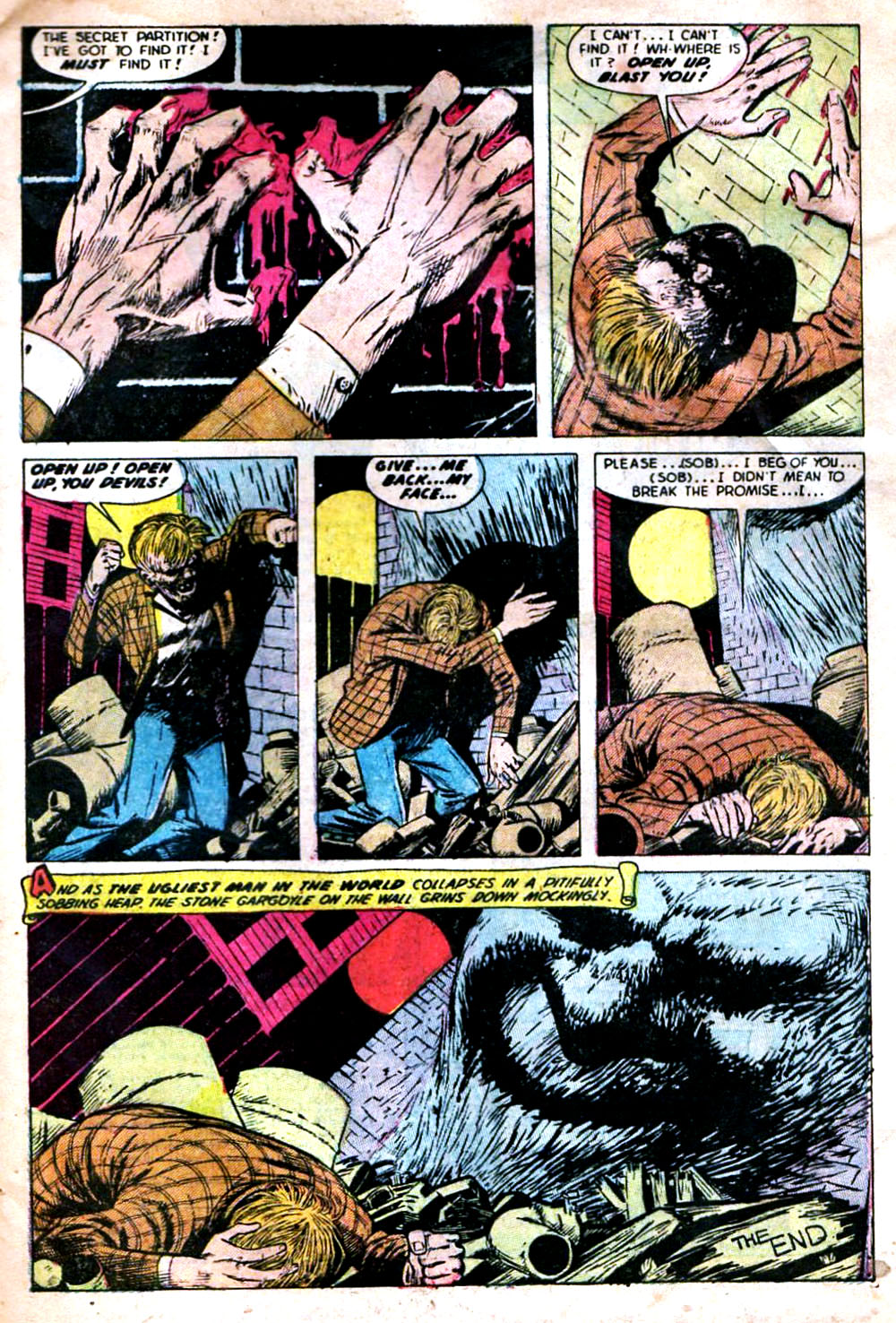 Grausam unlogische Geschichte, aber die beiden letzten Seiten imponieren, weil sie ungeschont und ungeschönt nichts weiter als nackte Verzweiflung schildern, das hat schon wieder Größe. Der Schauspieler versucht, in die Höhle der Hässlichen einzudringen, findet aber den Eingang nicht und kratzt sich die Finger blutig. Er bleibt zurück als Häufchen Elend. Ein hässliches Häufchen Elend.
Die beste Horrorgeschichte aus der Zeichenfeder von Jack Katz. Dessen Stil ist zwar alles andere als elegant, ist ein rohes, zweidimensionales Gekrakel, aber für das Gruselgenre überaus reizvoll.