(aus "Out Of The Shadows" Nr. 11, im Januar 1954 von  Standard Comics veröffentlicht)
Ein kahlköpfiger Frisör wird von einem Stammkunden seiner Glatze wegen aufgezogen und gehänselt. Eines Tages reicht es dem Frisör, er bringt den Kunden um und verscharrt ihn im Keller. Aus seinen schönen Haaren aber macht er sich eine Perücke. Die jedoch entwickelt ein Eigenleben, wächst und erwürgt den teuflischen Barbier eines Nachts. Dann spaziert die Perücke in den Keller und legt sich dekorativ auf das Grab des toten Kunden.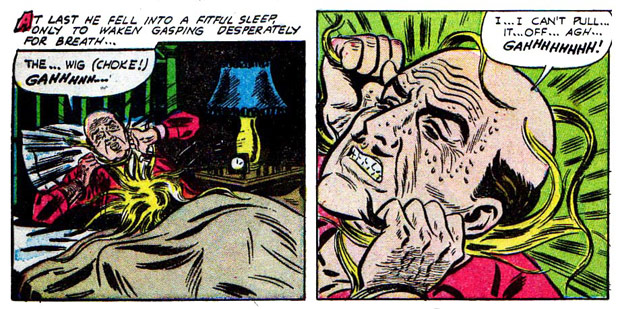 Die wahrscheinlich einzige Gruselgeschichte, in der Haare aktiv einen Mord begehen.
Und das ist so nicht wahr. Entdeckte ein paar Wochen später die Geschichte "The Face On The Floor" (aus THE TORMENTED Nr. 2, September 1952).
Hierin erschlägt ein jähzorniger Hausmeister (der es nicht leiden kann, wenn Menschen über seinen frisch polierten Boden laufen) die Hausbesitzerin und stellt sich aus deren Haaren einen neuen Wischmopp her. Der magische Mopp jedoch lässt ihn in jeder Putzpfütze die grinsende Visage der Toten sehen. Anschließend erwürgt der Mopp den Bösewicht.
Hab ich mir nicht ausgedacht, isso! "Ne fiese Mopp", wie der Rheinländer sagt. Harhar.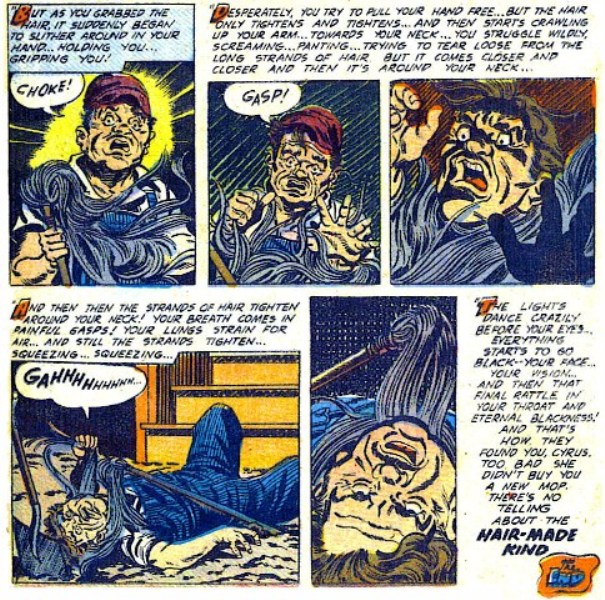 Das sollte es gewesen sein mit mörderischen Haaren. Es gibt ja auch visuell nichts her. Schauen Sie sich mal diese schwachmatischen Schreckensbilder an! Das sieht doch bestenfalls aus wie ein Haushaltsunfall. Also ehrlich.

Anmerkung zum Jahresende 2014:
Dieser Beitrag stammt aus den frühen Tagen von FIFTIES HORROR. Damals habe ich noch keine vollständigen Geschichten hochgeladen. Im Zuge einer Auffrischung meiner Webseite werden manche Beiträge in sogenannten "Re-Uploads" komplettiert, andere werden verlinkt.
Sie finden "The Wig" auf Karswells Blog, "The Face On The Floor" ebenfalls!