(aus "Voodoo" Nr. 3, im September 1952 von Ajax-Farrell veröffentlicht)
Auf einer Teeplantage in Ceylon geschehen seltsame Dinge: Alraunen laufen Amok!
Damit ist die Handlung auch schon beschrieben. Diese Geschichte beginnt im nichts, und endet im nichts. Aber drollig isses!
Ehe Sie eine Patenschaft für eine süße Alraune übernehmen, lesen Sie doch bitte erst den Warnhinweis: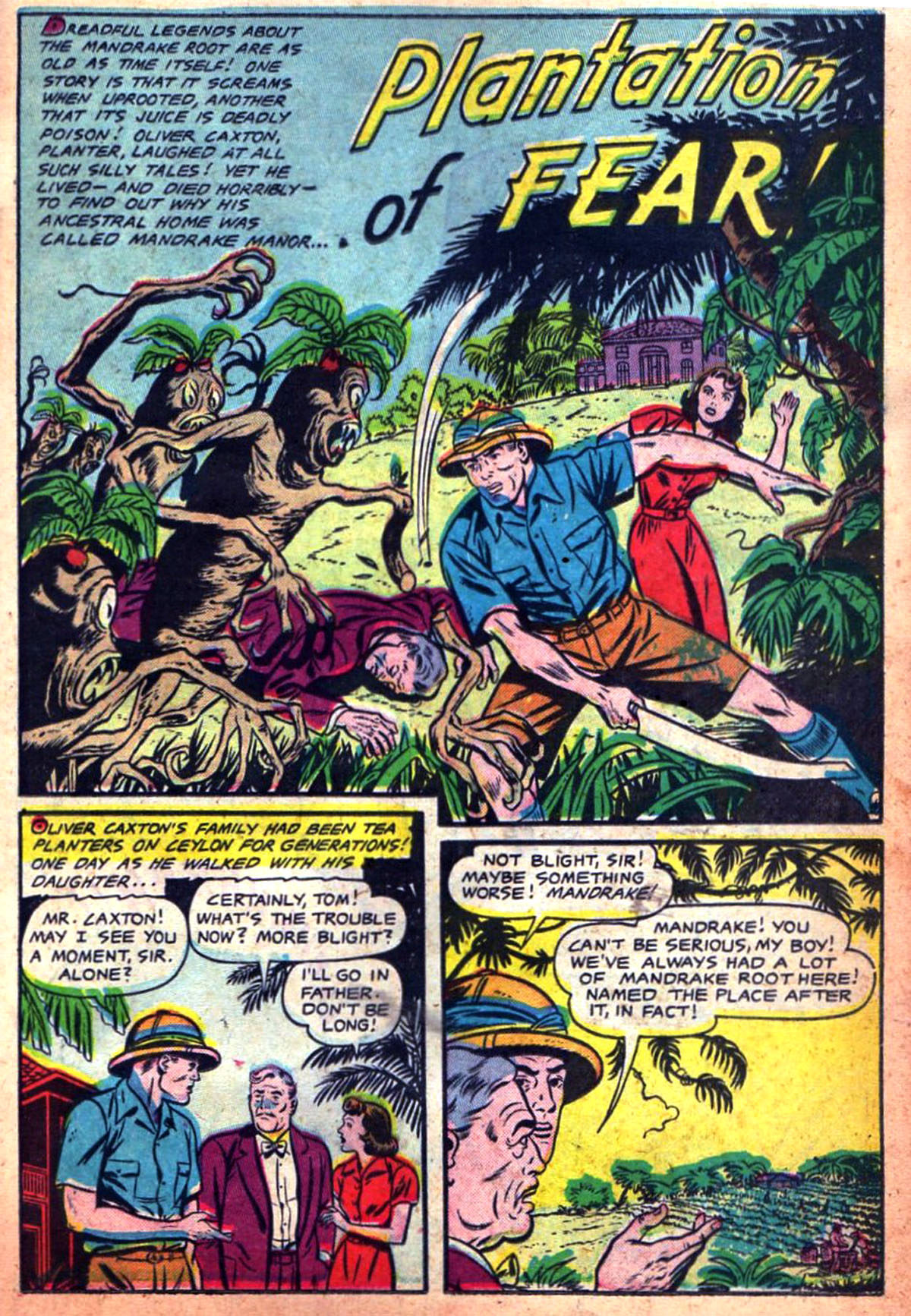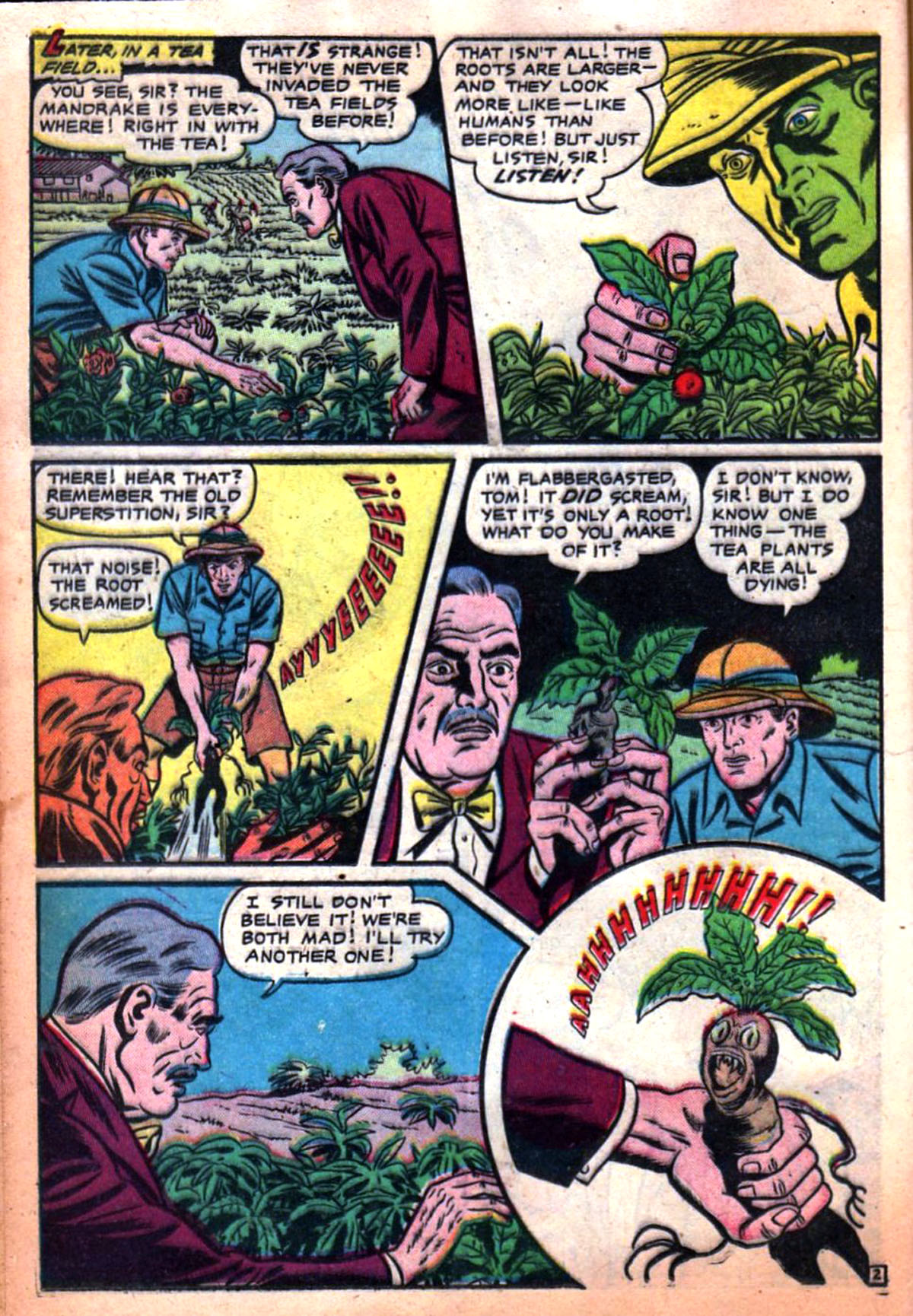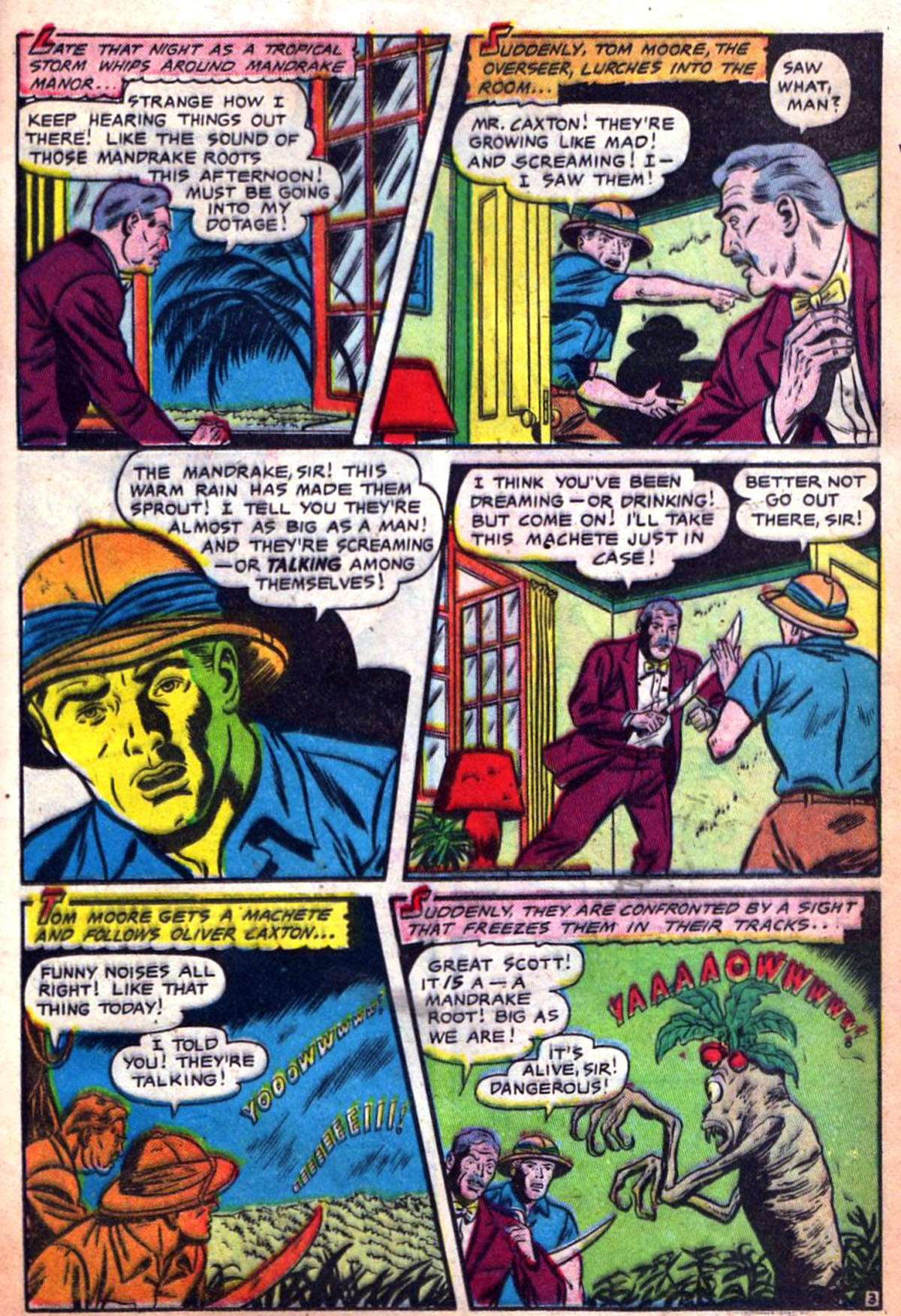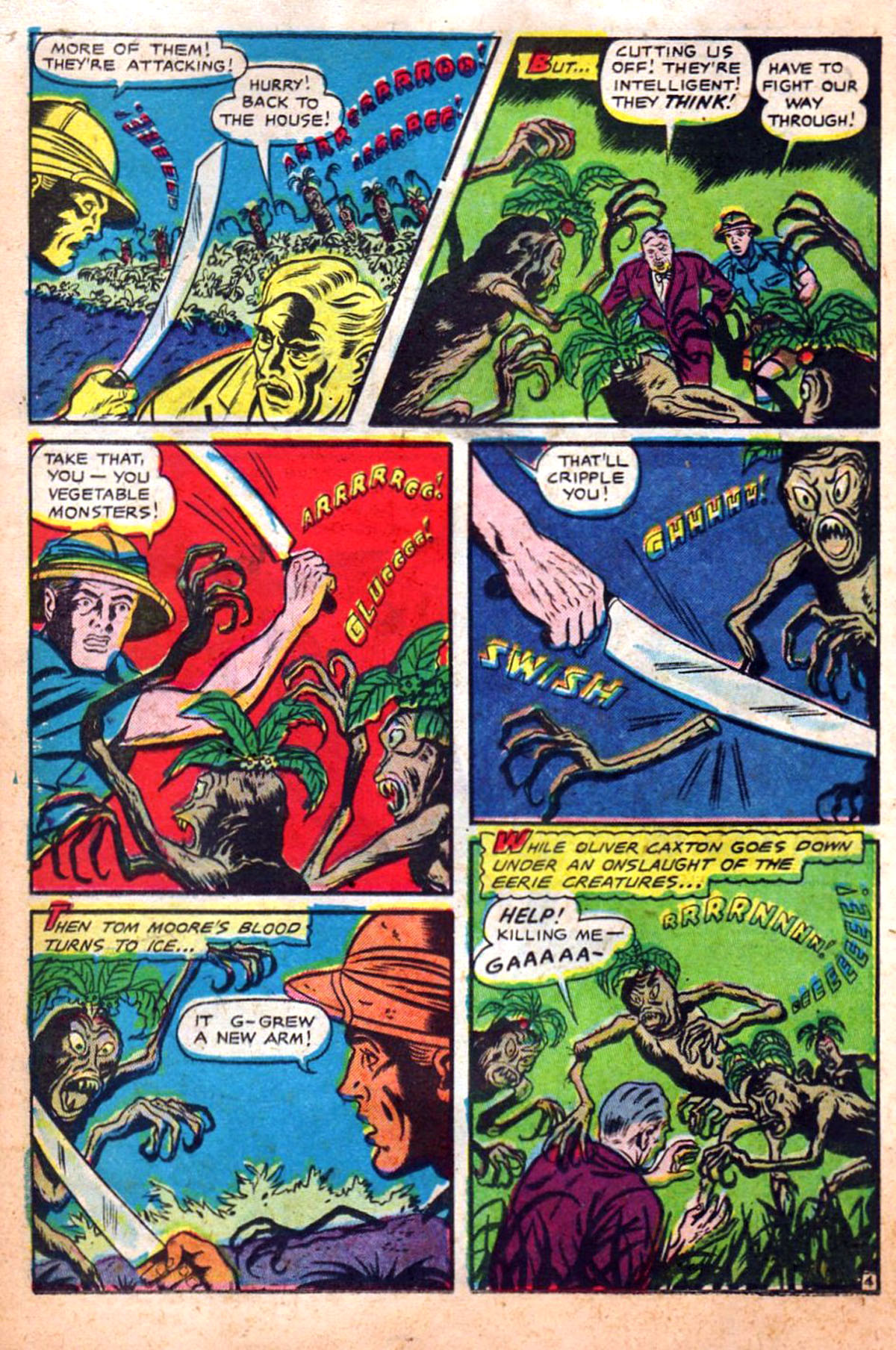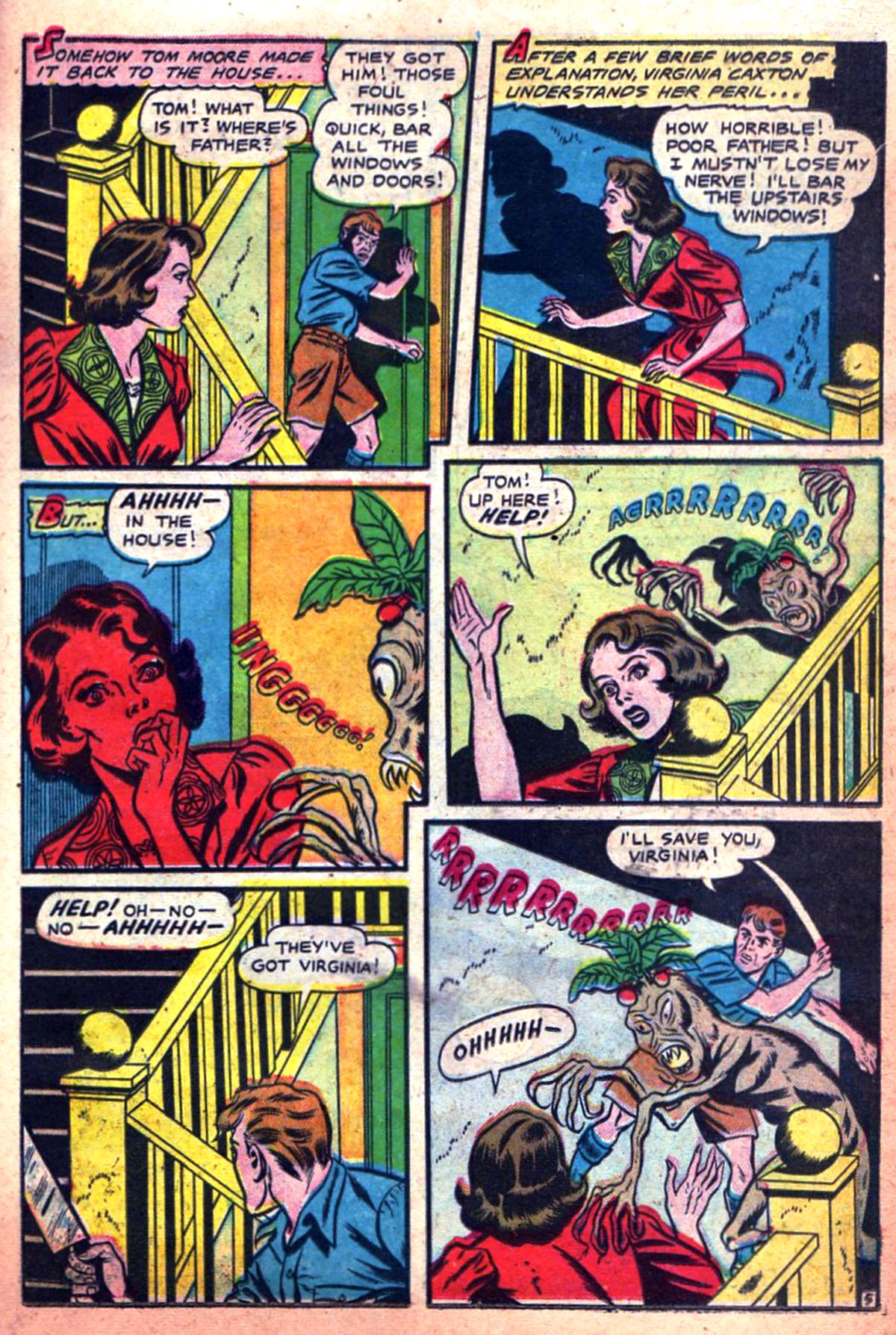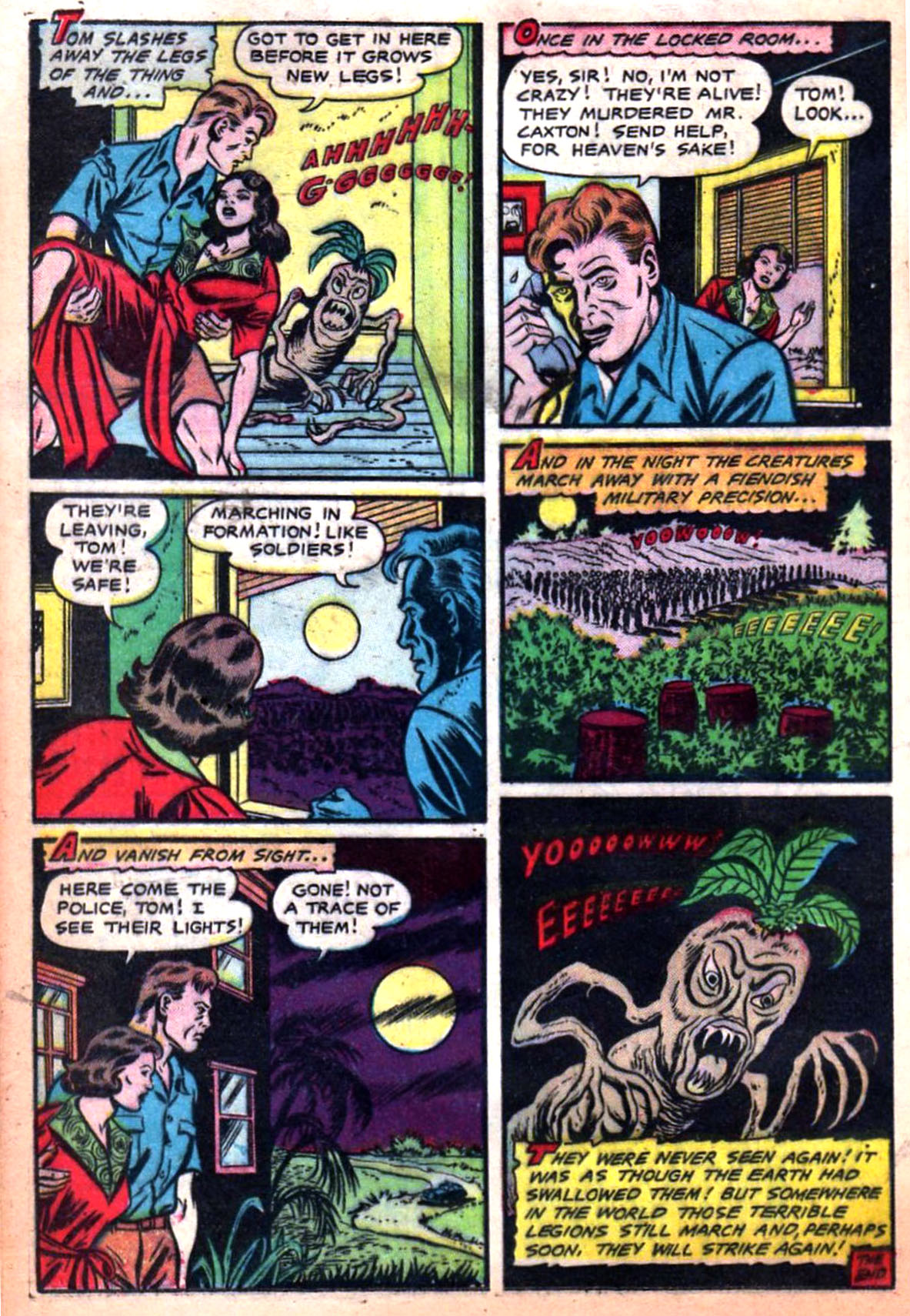 Spaßige Action mit Macheten, sozusagen "Plants vs. Tea Planters": "Nehmt das, ihr Gemüsemonster!". Aber ist es nur ein Spaß?!
Die Alraune (Mandragora) ist eine Gattung aus der Familie der Nachtschattengewächse und eine giftige Heil- und Ritualpflanze, die seit der Antike als Zaubermittel gilt, vor allem wegen ihrer besonderen Wurzelform, die der menschlichen Gestalt ähneln kann. Der Ausdruck leitet sich ab von 'Alb, Mahr, Faun' und rûnen 'leise sprechen, heimlich flüstern'.
Die Triffids (engl. Originaltitel: The Day of the Triffids) ist ein Science-Fiction-Roman des englischen Autors John Wyndham aus dem Jahr 1951. Handlung: Die Ölindustrie nutzt Pflanzen, die so genannten Triffids, aus denen sich mit hoher Effizienz Öl gewinnen lässt. Die Triffids können allerdings herumlaufen, Menschen angreifen und sogar umbringen. "The Day of the Triffids" wurde 1962 verfilmt (s. Filmposter anbei), und 2009 als dreistündiger BBC-Fernsehfilm adaptiert.
Also, Freunde, Pflanzenhorror kommt nie aus der Mode!
Die aktuelle schwedische Mysteryserie "Jordskott" dürfte die jüngste Variante dieses Themas sein ("Die Rache des Waldes" – kreisch!). Hier verbunden mit dem Thema Umweltzerstörung und Turbokapitalismus.
Hat seinerzeit nicht das Swamp Thing die Organisation "Greenpeace" gegründet?