(aus "Forbidden Worlds" Nr. 5, im März 1952 von American Comics Group veröffentlicht)
Der Kurator eines Museums für ägyptische Antiken bemerkt einen Besucher und denkt, Zitat, "That chap looks vaguely familiar. But where have I seen him? Wait, now I remember. He's got exactly the same features as those of the statue of Imhotep, the high priest of Egypt 4000 years ago." Was soll ich sagen? Es ist Imhotep, der aus einem Sarkophag die Priesterin der Sphinx auswickelt (obwohl dieser Vorgang "against the museum's rules" ist). Die Entfesselte spaziert auch quicklebendig mit Imhotep auf und davon, um die Sphinx wieder zum Leben zu erwecken.
Die Sphinx nämlich ist sauer, dass man ihr vor 4.000 Jahren ein Opfer verweigert hat und schmollt seitdem in Stein. Imhotep schafft es, sie ins Leben zurück zu zaubern und lässt sich von der Statue ein längeres Rezept zur Eroberung der Weltherrschaft diktieren, denn was ist sein Begehr? "I shall seize control of the entire world by means of new physical and occult weapons!". Normal . Währenddessen geht der Kurator mit der Priesterin um die Ecke knutschen (wirklich wahr). Imhotep rauscht heran, ist verständlicherweise stinksauer ("Hasn't 4000 years of death cured you of your amorous nature?") und sorgt für Eskalation. Die beiden Altägypter bringen sich synchron um, die Sphinx erstarrt wieder zu Stein – und ich habe mein Leben durch herzhaftes Lachen um 10 Minuten verlängert.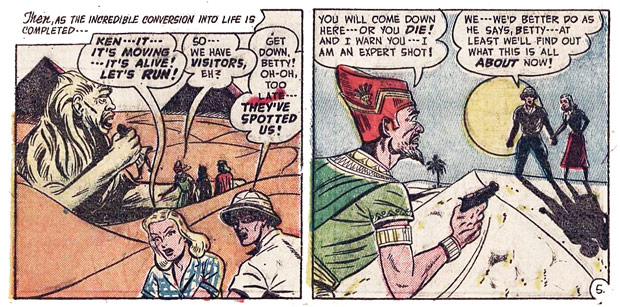 Eine seltene Perle der unfreiwilligen Komik. Nach jedem zweiten Bild lacht man sich erstmal schlapp. Sämtliche Dialoge sind der Knaller.