(aus "Voodoo" Nr. 6, im Februar 1953 von Ajax Farrell Comics veröffentlicht)
Dies hier scheint mir mehr als moralischer Appell gedacht. Die schwache Geschichte tut nichts zur Sache, es geht offenbar darum, eine Art "nicht-zu-Hause-nachmachen-Kinder"-Botschaft loszuwerden.
Eine junge Frau stöbert neugierhalber in einem Buch über Okkultismus und macht einen leichten Zauber nach. Eine Kette aus Hühnerfedern offenbart ihr, drei Tage lang getragen, den zukünftigen Ehemann. Sie zieht das Experiment (wenn auch ängstlich) durch, und tatsächlich erscheint ihr der zukünftige Partner. Doch – o Schreck! – es ist eine Vision des Todes!
Darüber wird sie fast wahnsinnig (!), ihr Freund kann sie gerade noch beruhigen und ablenken, indem er mit ihr Schlittschuh laufen geht. Auf dem vereisten See bricht sie ein und kommt ums Leben. Ist die Prophezeiung also wahr gewesen? Das Schlussbild gehört dem grübelnden Freund (in Nahaufnahme): "This horrible experience has warned me. I won't dabble in the black sciences". Na dann is ja gut.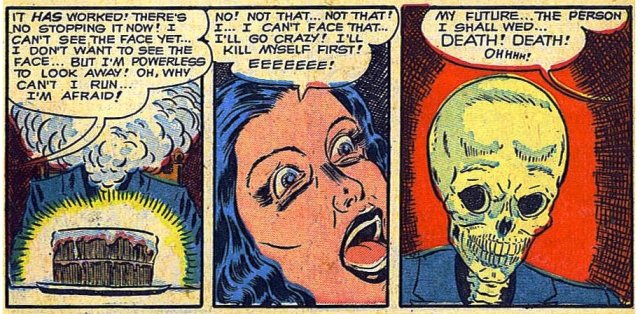 Das stinkt förmlich nach einer "this-can-happen-to-you"-Fabel. Ob das zur Besänftigung der empörten Öffentlichkeit gedacht war?
Unsere Comics haben auch einen moralischen Nährwert.
Anmerkung zum Jahresende 2014:
Dieser Beitrag stammt aus den frühen Tagen von FIFTIES HORROR. Damals habe ich noch keine vollständigen Geschichten hochgeladen.
Im Zuge einer Auffrischung meiner Webseite werden manche Beiträge in sogenannten "Re-Uploads" komplettiert, andere werden verlinkt.
Diese Geschichte können Sie UNTER DIESEM LINK auf Karswells gigantischem Blog "The Horrors of It All" einsehen.