(aus "Mystery Tales" Nr. 2, im Mai 1952 von Atlas Comics veröffentlicht)
Ein Wissenschaftler beerdigt seine Frau. Sie verstarb an einem tückischen Virus, gegen das kein Mittel half. Der Wissenschaftler schwört, das Virus zu besiegen. Dazu hat er folgenden Plan: Viren sind mikroskopisch klein und schwer erforschbar. Wenn man sie größer züchten könnte, ginge das leichter. (Mit dieser Einstellung wäre er nach heutigen Maßstäben aus jedem Biolabor der Welt gewaltsam entfernt worden). In jahrelanger Arbeit gelingt es dem Wissenschaftler, Killerviren in der Größe von Fliegen zu züchten. Damit nicht zufrieden, steckt er mehrere Exemplare in ein Gewächshaus (sic!) und legt sich schlafen. Gute Nacht, Sicherheitsstandards.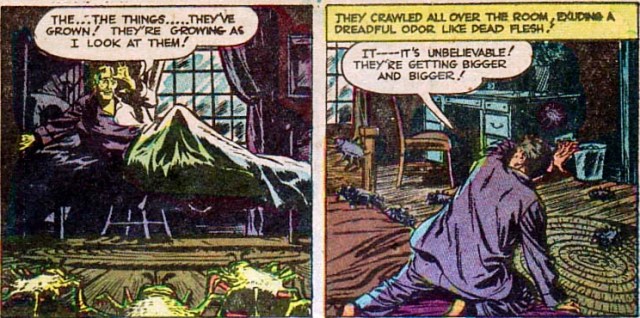 Die Biester jedoch entwickeln sich rasant und wachsen so schnell, dass man dabei zugucken kann. Die Virenkäfer jagen den Wissenschaftler munter durchs Schlafzimmer, Blumen verwelken bei ihrem Anblick, dem guten Mann wird ganz schwindling – "from the poison they throw off". (Im Biologieunterricht bitte nicht mit diesem Wissen prunken!) Auch diverse Drogen und Säuren (!), die ein Wissenschaftler stets auf dem Nachttisch parat hat, wirken nicht. Letzter Ausweg: Flucht in den Keller und Inbrandsetzen desselben. Der Wissenschaftler brennt sein Haus, die Viren und sich selber nieder – erkennt aber noch im Tode: Draußen im Garten wächst ein überlebendes Virus bereits über das Haus hinaus!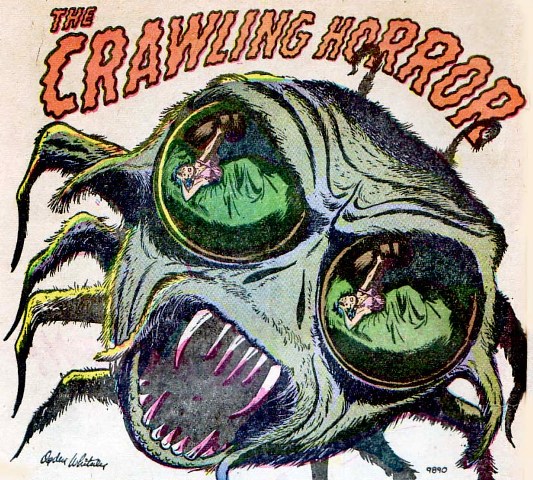 Viele der Atlas-Stories auf diesen Seiten entstammen Karswells THOIA-Blog (The Horrors Of It All, DAS weltweite Forum für Pre-Code-Horrorcomics). So auch diese – sehen Sie die komplette Geschichte unter DIESEM LINK.
"The Crawling Horror" bietet eine gelungene Mixtur aus pseudo-wissenschaftlichem Gaga und wohlfeilem Insekten-Grusel. Solides Artwork von Ogden Whitney, eine der zahlreichen Randfiguren in Diensten der Marvelgesellschaft.
Das Ende ist zwar ein Formelkäse (dieses Monster streunt irgendwo da draußen herum, wird es bald die Welt vernichten?!), aber der vorausgehende gräßliche Flammentod des Wissenschaftlers verdient literarische Beachtung: "I smelled flesh burning… my own flesh! It cracked and cooked as the fire seared into my body… (until)… I melted into death in that inferno"! Drastisch, drastisch.
Nach der Lektüre schaue man noch mal auf die erste Seite zurück. Der wunderschöne Splash offenbart in den blanken Riesenaugen des Monstervirus eine sich im Bett wälzende blonde Frau – das muss des Wissenschaftlers Weib sein, welches er in Bild 2 und 3 beerdigt. Brillant eingearbeitet!