(aus "House of Mystery" Nr. 23, im Februar 1954 von DC Comics veröffentlicht)
Alex Manning ist ein besessener Briefmarkensammler, der einem Gerücht nachjagt: Ein hochrangiger Nazi namens von Cramm habe eine Sammlung von "Schicksals-Briefmarken" besessen. Manning findet diese tatsächlich, wird jedoch von seinen Sammlerfreunden darum  betrogen. Er findet ein tragisches Ende, doch der Fluch der Briefmarken tut sein Übriges.
Also lassen Sie Vorsicht walten, wenn ich Ihnen nun meine Briefmarkensammlung zeige.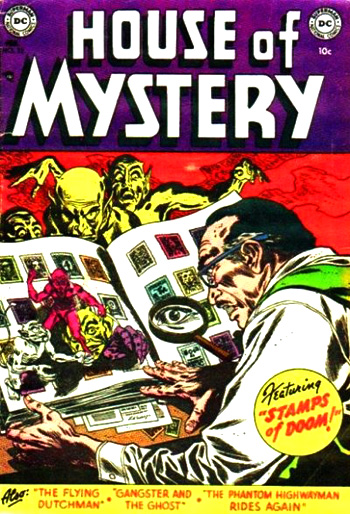 Sie … Sie … Philatelist, Sie!
Man staunt, wie unsensibel DC keine zehn Jahre nach dem Krieg die Ruinen eines Konzentrationslagers als Fundgrube für NS-Memorabilia nutzt. Aber das war ja kein Einzelfall, wie Ralf Palandt und Markus Streb in ihren Forschungen zu "Comics und Holocaust" darlegen. In unserer Rubrik WISSEN finden Sie einen langen Essay zum Thema.
Am schockierendsten finde ich an "The Stamps of Doom!", dass es einen Weltbriefmarkenclub gibt, und dass sie ein "Hauptquartier" in London betreiben.
Eine der seltenen Geschichten allerdings, die NICHT dem gefürchteten 'DC ratio-twist' anheimfallen, sondern tatsächlich ein übernatürliches Ende präsentieren!
(Am Übernatürlichsten daran erscheint mir, dass ein Deckenventilator eine Krawatte ansaugen kann, tzz, tzz, tzz.)
Zeichner ist der solide Ruben Moreira, der sich Mühe gibt ­– und nebst Curt Swan und Carmine Infantino Stammkraft bei DC HORROR war. By the way sei nochmals auf meine englische Spezialseite über AVON, DC & QUALITY HORROR hingewiesen.