(aus "City of The Living Dead",  1952 von Avon veröffentlicht)
Kuriosum aus Avons nur einmal aufgelegtem Titel CITY OF THE LIVING DEAD.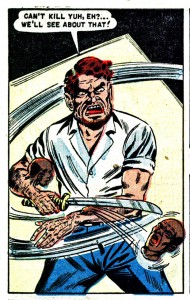 Ein Sklavenhändler namens "Captain Death" wird von afrikanischen Eingeborenen verflucht. Daraufhin wachsen aus seinen Unterarmen die Köpfe seiner früheren Opfer.
(Ich hab mir das nicht ausgedacht, siehe Bild rechts).
Egal, wie oft er diese "Wucherungen" abschlägt oder verbrennt, sie wachsen immer wieder nach – und hänseln ihn!
Da ersäuft sich der hartgesottene Captain Death (auf diesen Namen hätte ich mir ein Copyright eingerichtet, isses nich toll?) lieber im Meer.
Paradebeispiel für die manchmal auch NUR grotesken Auswüchse (im wahrsten Sinne des Wortes!), die die Horrorcomics der 50er Jahre mit sich brachten.
Die Geschichte ist einfach nur plump, da lässt sich nichts weiter herausholen (oder?) – Psychologen an die Front! Gerne können Sie diese Geschichte kommentieren. Wir sind doch alle froh, wenn wir wieder besser schlafen können.

"Death Has Many Tongues" – dieser kranke Klassiker jetzt im Re-Upload als komplette Story auf FIFTIES HORROR.
Abschließend ein Wort zum Zeichner:
Harry Lazarus war kein Meister, verfügt aber über einen markanten Stil. Sichtungen seiner Arbeit werden aus den Jahren 1944 bis 1974 gemeldet. Sein Kernschaffen beschränkt sich jedoch auf den Zeitraum von 1952 bis 1959 – hier hat er ausschließlich Horror illustriert.
Das hauptsächlich für die American Comics Group (ACG).