(aus "Voodoo" Nr. 6, im Februar 1953 von Ajax Farrell Comics veröffentlicht)
Diese Geschichte (hat auch Suarez nachgedruckt) ist auf gleich zwei Weisen markant: Erstens ist das einer der irrsten Splash-Pages, die ich kenne. Ein kopfloser Mann rennt (sportlich, sportlich) vor dem Hintergrund eines Vollmondes einer Fledermaus nach, die seinen Kopf (abgetrennt und bluttriefend) davonträgt (zudem schaut ein grimmes Skelett hinter einem Felsen hervor).
Zweitens ist das die Geschichte mit dem Haar. Hier kommt sie:
Die geheimnisvolle Dschungelprinzessin Oona besucht die Vereinigten Staaten. Ein aufdringlicher Reporter macht sich an sie ran und verführt sie in drei Bildern. Sie ist aber auch hingerissen von seinem schönen blonden Schopf ("Such lovely hair you have. I like that in men").
Und – zack! – sind sie auf dem Weg in den Dschungel, wo er ihr König sein soll. Sie erweist sich als echte Amazone und Kämpferin, die ihn andauernd aus Dschungelgefahren retten muss (Krokodile, Fledermäuse). Nach überstandener Gefahr pausiert sie, um sein schönes Haar zu streicheln. Er flachst derweil: "Sometimes I think you – haha! – love my hair more than me".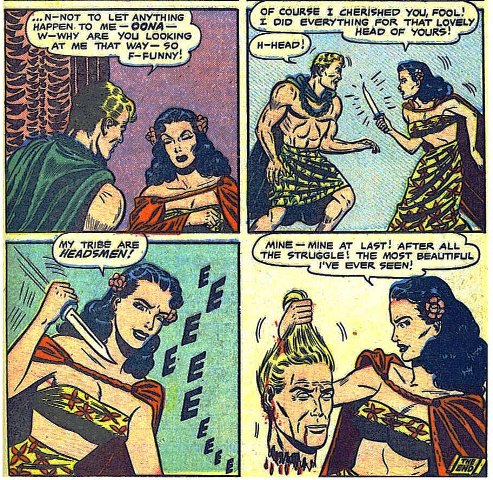 Im Dschungeldorf angekommen, wird der Reporter herausgeputzt und vor den Thron von Königin Oona geführt. Ihm kommt das alles spanisch vor und richtig:Oona zückt ein langes Messer, offenbart ihm, dass sie und ihr Stamm Kopfjäger sind – und enthauptet ihn schwärmerisch ("The most beautiful head I've ever seen").
Das Schlussbild (s.l.) dürfte einmalig in der Comicgeschichte sein: Eine Frau schwenkt stolz den Kopf eines Mannes herum.
Die komplette Geschichte findet sich auf Karswells Blog "The Horrors Of It All", ich verweise mit diesem Link.
Das umgekehrte Motiv ist auf zwei berüchtigten Comic-Titelbildern verewigt. Johnny Craigs CRIME SUSPENSTORIES Nr. 22 (Mai 1954, EC Comics) und (angeblich) Dick Becks FIGHT AGAINST CRIME Nr. 20 (Juli 1954, Story Comics).