(aus "Haunt Of Fear" Nr. 28, im November 1954 von EC Comics veröffentlicht)
Im tiefsten Afrika lebt zurückgezogen ein Großwildjäger. Er fristet seine Tage einsam und verbringt sie damit, Tiere zu fangen und zu Tode zu quälen. Auf diese Weise rächt er sich an Menschen, die ihn in der Vergangenheit verletzt haben. In gnadenlosem Sadismus verstümmelt, verbrennt und zerfleischt er hilflose Wesen (Löwen, Panther, Hyänen, Ameisen, Affen). Eines Tages fällt er aus Unachtsamkeit in eine selbstgestellte Falle. Die Tiere des Dschungels (müsste es nicht eher die Savanne sein?) rächen sich. Eine Kolonie von Killerameisen frisst ihn auf.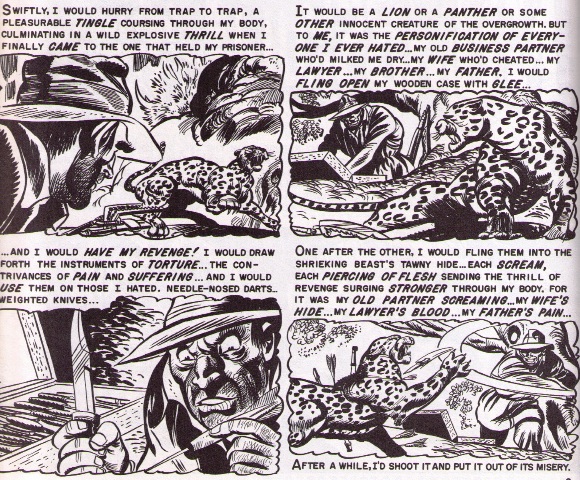 Bernie Krigsteins einziger Beitrag zur Reihe HAUNT OF FEAR ist solide, aber nicht so spektakulär wie die zu den Schwesterheften TALES FROM THE CRYPT und VAULT OF HORROR (je 3). Die zwanghafte Tierquälerei der Hauptfigur ist durchaus schockierend, zumal sie aus der Ich-Perspektive erzählt wird. Der Blick des Menschenaffen verschafft dem Jäger die größte Genugtuung: "I savored each look of terror, each flash of pain in those eyes as I used my instruments of torture… crunching bone… smashing flesh… drilling… hacking… cutting…". Das grenzt verbal schon an Splatter-Comic.
Grafisch hübsch ist, dass Krigstein das erste und vorletzte Bild der Geschichte wie durch das Okular eines Feldstechers rahmt. Das letzte offenbart uns dann, dass wir nicht durch ein Fernrohr, sondern durch die leeren Augenhöhlen eines Totenkopfs blicken.