(aus "Mysterious Adventures" Nr. 18, im Februar 1954 von Story Comics veröffentlicht)
Zwei Football-Mannschaften ringen um den Sieg. Der kommt mit der Einwechslung des Spielers Reynolds, der einen magischen "Lieblingsball" benutzt und mit diesem das entscheidende Tor schießt. Der unterlegenen Mannschaft kommt dieser Zauberball spanisch vor, und zwei ihrer Spieler beginnen eine Untersuchung. Sie brechen in das Haus des Siegspielers ein und sehen sich dort um.
Reynolds erwartet sie bereits mit vorgehaltener Flinte und verrät ihnen das Geheimnis: Der Wunderball ist bespannt mit Menschenhaut! Das vorletzte Bild zeigt im Vordergrund zwei gehäutete Gesichter im Profil, im Hintergrund den Bösewicht, wie er einem Football neue Haut aufnäht, das letzte Bild einen Kickoff mit dem neuen Ball, auf dessen Oberfläche ein Tattoo prangt…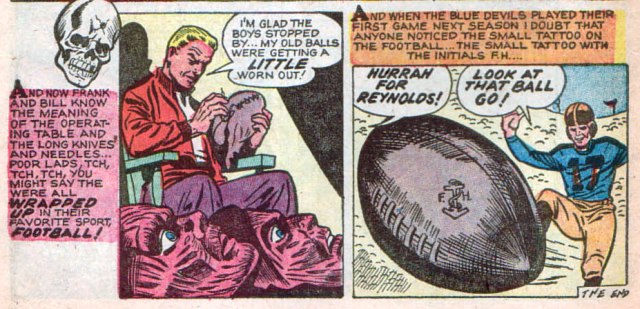 Klingt das zu Teilen irgendwie bekannt? Ein Football-Spiel, bei dem es nicht mit rechten Dingen zugeht? Spieler, die Verdacht schöpfen? Ein Menschenopfer auf dem Sportplatz?
"Skin'em Alive" offenbart sich als "Schwestergeschichte" zu "Foul Play" von Jack Davis, welche in HAUNT OF FEAR Nr. 19, Mai 1953 erschienen war, also ein gutes halbes Jahr zuvor. Davon haben sich die Story-Schreiber offensichtlich thematisch inspirieren lassen. Deutlichster Hinweis ist die (allerdings irreführende) Splash-Page (der menschliche Kopf als Football!).
Darum geht es in "Foul Play". In "Skin'em Alive" wird nicht mit Köpfen gespielt. Des Weiteren beachte man den prominent platzierten Erzähler namens Coffin-Keeper. Wenn das nicht eine Verbeugung vor dem Crypt-Keeper ist – und insgesamt eine gekonnte, augenzwinkernde Hommage an "Foul Play"!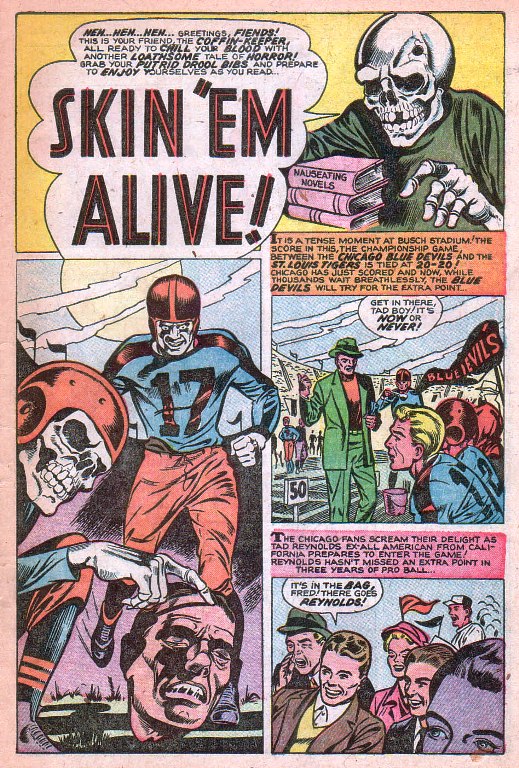 Anmerkung zum Jahresende 2014:
Dieser Beitrag stammt aus den frühen Tagen von FIFTIES HORROR. Damals habe ich noch keine vollständigen Geschichten hochgeladen.
Im Zuge einer Auffrischung meiner Webseite werden manche Beiträge in sogenannten "Re-Uploads" komplettiert, andere werden verlinkt.
Diese Geschichte können Sie UNTER DIESEM LINK auf Karswells gigantischem Blog "The Horrors of It All" einsehen.