(aus "Mysterious Adventures" Nr. 6, im Februar 1952 von Story Comics veröffentlicht)
Eigentlich uninteressante Schauermär, die dann doch mit bösem Ausgang schockiert.
Ein junges Pärchen landet auf Hochzeitsreise in einem Städtchen, das eine historische Feier begeht. Alle Bewohner stellen das 18. Jahrhundert nach. Die Frau fühlt sich seltsam vom Richtplatz angezogen, wo damals Hexen verbrannt wurden. Sie ahnt, in einem früheren Leben eine solche Hexe gewesen zu sein.
Der Mann recherchiert und tatsächlich – sie ist die Nachfahrin eines Opfers. Wie in Trance kettet sich die Frau derweil am Richtpfahl an. Der Mann eilt herbei, sie zu befreien, da zückt er plötzlich ein Feuerzeug – und verbrennt seine Frau! Denn er ist der Nachfahre des Henkers von damals ("For a few minutes he was alive again and used my body").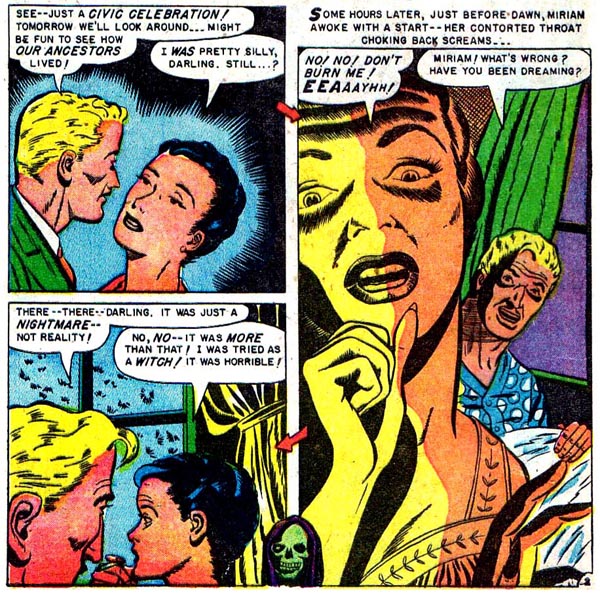 Manche Autoren lassen in ihren Geschichten auch Unschuldige über die Klinge springen. Diese Geschichten sind immer die schockierendsten. Das hat es bei EC und Atlas in der Regel nicht gegeben. Da trifft es immer nur Mörder, Verbrecher und Bösewichter aller Couleur.
Anmerkung zum Jahresende 2014:
Dieser Beitrag stammt aus den frühen Tagen von FIFTIES HORROR. Damals habe ich noch keine vollständigen Geschichten hochgeladen. Im Zuge einer Auffrischung meiner Webseite werden manche Beiträge in sogenannten "Re-Uploads" komplettiert, andere werden verlinkt. Diese Geschichte können Sie UNTER DIESEM LINK auf Karswells gigantischem Blog "The Horrors of It All" einsehen.