FIFTIES-HORROR-Freunde wissen, dass Verleger Craig Yoe alle zwei Monate das Comicheft HAUNTED HORROR auflegt.
Darin finden sich bunt gemischte Perlen lizenzfreier Precode-Stories aller Verlage (außer EC und Marvel). Ich habe diese schöne Reihe seit Anbeginn mit Scans und Vorschlägen unterstützt.
Craig und seine wundervolle wie kompetente Gattin und Mitgeschäftsführerin Clizia Gussoni eröffneten mir im Frühjahr die Möglichkeit, ein komplettes Heft nach meinen Vorstellungen zu füllen. Jetzt ist diese Nummer 35 erschienen und enthält prächtige und gehaltvolle Geschichten, die bislang noch nicht zu finden waren!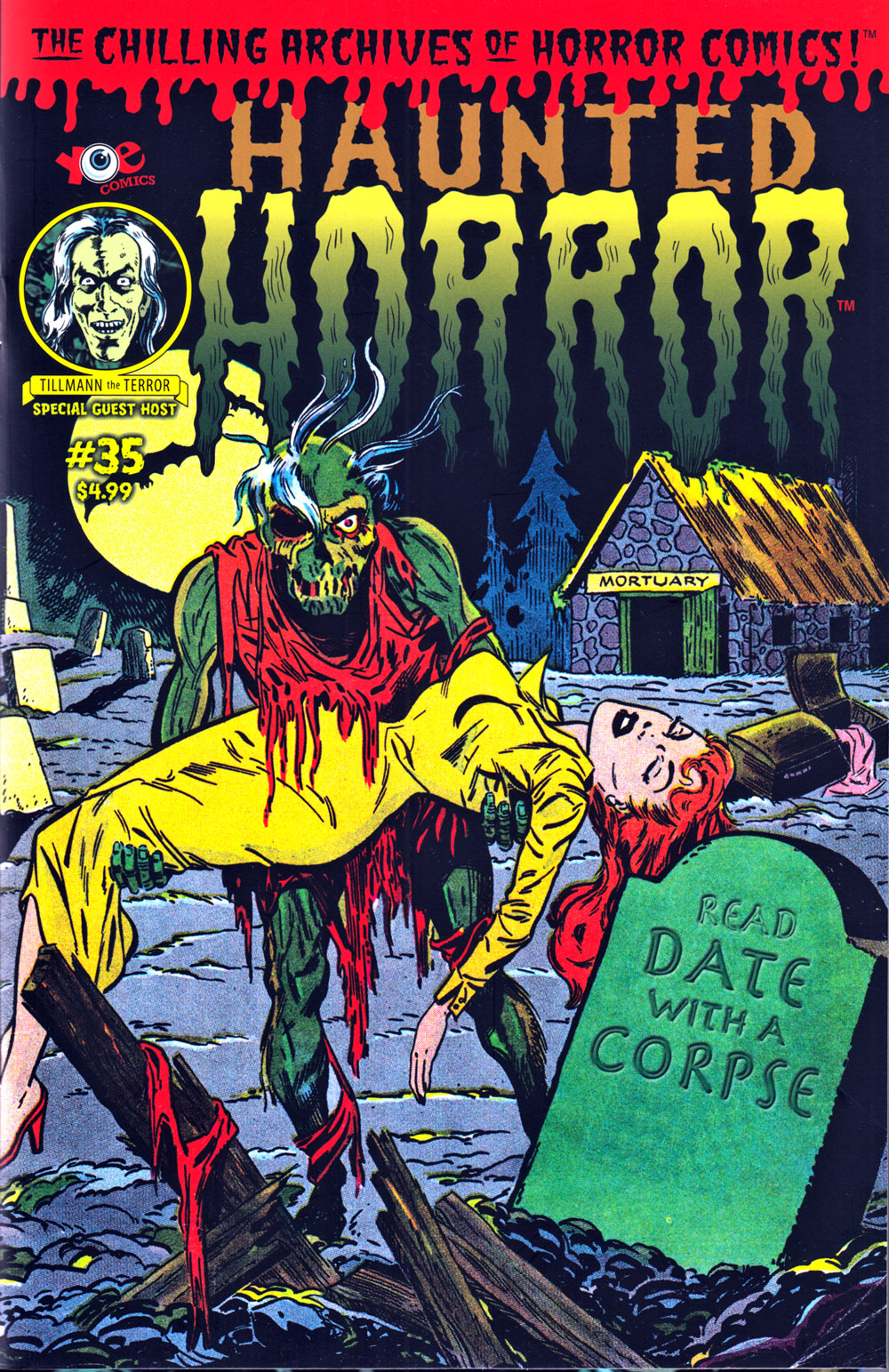 Ich habe eine stilistisch abwechslungsreiche Mischung komponiert: das grenzwertige "Date with a Corpse" von Mike Sekowsky im Alex-Toth-Stil gezeichnet / das literarische "Death Writes the Horoscope" vom entdeckenswerten ACE-As Louis Zansky / das herrlich krude "The Hand of Glory" des rar zu findenden Matt Fox / kreativer Werwolfgrusel mit "Horror Blown in Glass" vom unterschätzten Ken Rice / ein "Kiss and Kill"-Quickie von meinem Liebling Bob Powell (darf nicht fehlen) / das total kranke "Mark of Violence" aus Charltons THE THING / Jack Katz mit seinem schrägen "The Rat Man" sowie als Rausschmeißer Manny Stallmans Ehe-ist-die-Hölle-Kracher "The House".
(Bei der Gelegenheit nochmals der Hinweis, dass auf FIFTIES HORROR leider nicht mehr viel stattfindet. Andere Arbeiten fressen mich auf: mein Kulturblog berichtet über Filme, Serien und Comics und bei COMIXENE bin ich Redakteur für das ganze Comicspektrum – ist aber alles lecker!)