(aus "Venus" Nr. 17, im Dezember 1951 von Atlas Comics veröffentlicht)
Mode-Redakteurin Venus hat Probleme mit dem cholerischen Comicredakteur Jimmy. Der bricht zusammen, denn seine Horror-Kreationen sind lebendig geworden und feiern einen wilden Karneval mit ihm!
(Ich poste die Geschichte heute, weil in Deutschland der Fasching ausgebrochen ist, Februar 2018.)
Die Figur der Venus hatte übrigens ihr eigenes Heft, das erst ein Romance-Comic war, bis sich in späteren Ausgaben einige wilde Horrorstorys einschlichen. Eine Covergalerie dieses Titels können Sie unter diesem Link auf der Grand Comics Database einsehen.
Der Redakteurs-Wüterich (hier Jimmy Rogers) ist eine wiederkehrende Figur in den Comics dieser Jahre. Offenbar war der Umgangston in diesen Zeichenfabriken tatsächlich ein rauer. Wohl auch herzlich, sonst hätten diese Redakteure solche Karikaturen gar nicht erst erlaubt …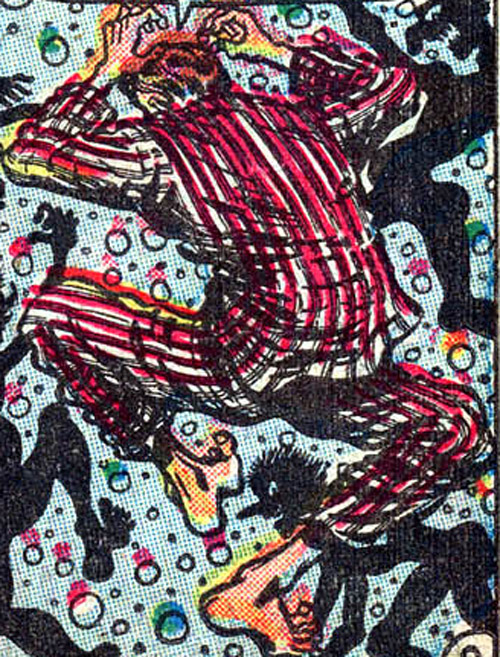 Das Artwork von Bill Everett ist mal wieder unvergleichlich irre. Everett hat angeblich auch selber gelettert, seine Schrift ist anders als bei Atlas üblich. Der Held, den er hier entwirft, hat viel vom Sub-Mariner, den Everett übrigens auch gezeichnet hat.
Beachten Sie auch den "inkwell" (das Tintenfass) auf der letzten Seite. So werden Charaktere geboren und vergehen auch wieder. Max Fleischers frühe, stumme Trickfilme von 1918-1927 standen unter dem Motto: "Out of the inkwell".
Die Körperpose von Jimmy am Ende von Seite 2 ist außerordentlich karikaturesk, selbst für Everetts Verhältnisse! Das sieht aus wie aus einem MAD-Heft entsprungen, nur gab es 1951 noch kein MAD. Es sieht ebenfalls sehr nach Jack Davis aus, nur war Davis 1951 ein Anfänger, der das so filigran noch nicht hinbekommen hat. Frage mich gerade, ob Davis von Everett beeinflusst ist …
Für eine weitere VENUS-Geschichte klicken Sie bitte untenstehend, es öffnet sich die "Box of Doom!".