(aus "This Magazine Is Haunted" Nr. 17, im Mai 1954 von Charlton Comics veröffentlicht)
Ein Vulkan bricht aus und eine unterirdische Lebensform tritt zu Tage – eine Art Riesenamöbe mit einem Spiegel-Ei-artigen Monsterauge. Zudem riecht es schlecht, denn es umgibt es ein "fauliger, brenzliger Geruch".
Das Ding ist jedoch gutartig und auf Entdeckungstour, es möchte unter den Menschen leben, denn es hat viel über sie gelesen ("when the books of a school dropped into earth") und weiß daher, dass die Menschen gerne Freundschaft schließen.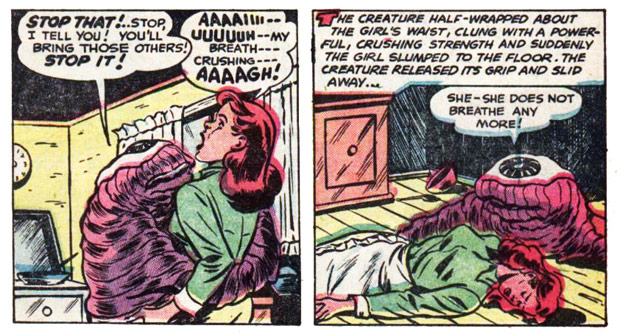 Die beiden ersten Versuche gehen entsetzlich schief: ein Farmer stirbt vor Schreck an Herzversagen, eine Hausfrau wird hysterisch und versehentlich von dem Ding erdrückt. Endlich findet sich jemand, der es hereinbittet und freundlich ist. Als das Ding jedoch merkt, dass der Mann BLIND ist, läuft es selbstmörderisch in den Kugelhagel der anrückenden Polizei.
"A simple wish" ist eine kleine Sternstunde der Kategorie "Just Crazy". Deshalb veröffentliche ich diese putzige Nonsens-Perle als Vollscan.
Große, öde Bleiwüste, wie mir gerade auffällt. Da ist ja kaum Platz für Zeichnungen. Aber die Lektüre lohnt sich!
Das hätte auch eine EC-Science-Fiction-Story sein können. EC hat mehrere solcher Humanismus-Parabeln in seinen Magazinen gebracht. Wahrscheinlich hat sich der unbekannte Texter/Zeichner bei Charlton vom EC-Stil inspirieren lassen…
Nachtrag zum Re-Upload: Den Zeichner kann ich dank meiner Studie zu den ACE-Horrorcomics inzwischen identifizieren. Das ist George Appel. Oder Maurice Gutwirth. Selbst die weltbesten "art spotter" wissen nicht, um wen es sich hier handelt. Einen von beiden. Diese Comics waren meistens nicht signiert. Also Gutwirth/Appel. Vielleicht ist es aber auch ein und dieselbe Person (meine Theorie, gnihihih)…