(aus "Venus" Nr. 19, im April 1952 von Atlas Comics veröffentlicht)
Ein Bote liefert ein seltsames Päckchen in eine Zeitungredaktion. Die Reporterin Venus ahnt, dass etwas Böses darin schlummert – oder besser gesagt: wummert! Und heraus will. Dank telepathischer Überzeugungskräfte entkommt ein dämonisches Wesen, das Besitz von dem Boten übernimmt und Venus attackiert!
Vorhang auf für sechs Seiten zauberhaftes Artwork von Fan-Liebling Bill Everett.
Horrorsammler gieren nach diesen "Venus"-Stories aus der Feder von Bill Everett. Die obige Geschichte ist zwar krude konstruiert (angeblich von Zeichner Everett selbst verfasst), aber unterhaltsam und rasant.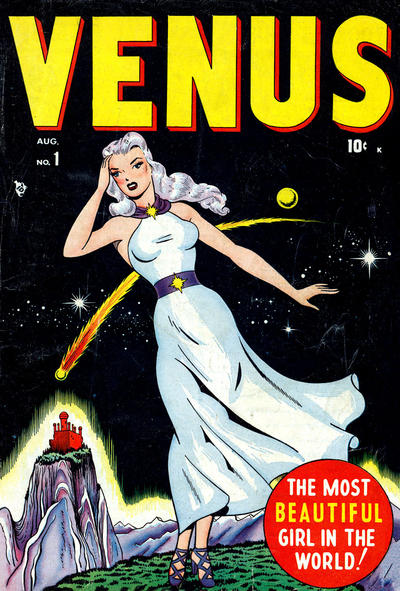 So schön Everetts Werke auch aussehen, so unzumutbar sind seine Skripte. Deswegen wähle ich gezielt nur "The Box of Doom!" aus.
Wer mehr von Venus sehen will, wende sich vertrauensvoll an Karswells grandiosen Blog THE HORRORS OF IT ALL  – dort finden Sie noch die Posts "Kiss of Death!" sowie "Demon from the Deep!".
Blogbetreiber Steve Banes linkt sogar noch weitere Venus-Werke…
Comichistorisch nachgetragen sei, dass die Atlas-Serie VENUS 1948 als "romance book" mit fantastischem Einschlag begann und sich dann (ab ca. Nr. 10) vermehrt mit Science Fiction und schließlich auch mit Horror beschäftigte!
Die Ausgaben 13 bis 19 sind größtenteils von Bill Everett gestaltet und somit heißbegehrte und wertvolle Sammlerstücke.
Titelfigur Venus ist tatsächlich die Göttin der Liebe, die auf Erden wandelt und ihre Abenteuer erlebt. In den letzten Ausgaben des Heftes wandelt sie sich zur Reporterin ohne Superkräfte, aber noch mit einem Sinn für das Übernatürliche ausgestattet.