(aus "The Beyond" Nr. 27, im July 1954 von Ace Comics veröffentlicht)
Kip Hunter handelt mit Schrumpfköpfen, also kann man ihn wohl als "Kopfjäger" bezeichnen. Er wiegelt zwei Stämme in Borneo gegeneinander auf und packt sich die Koffer voll mit grauslichen Trophäen. Aus Versehen belebt Hunter den Kopf des obersten Schamanen wieder. Der sinnt auf Rache, holt seine Stammesbrüder und beginnt die Jagd auf den Jäger.
Internet-Premiere für strahlenden Nonsens des unterschätzten ACE HORRORs.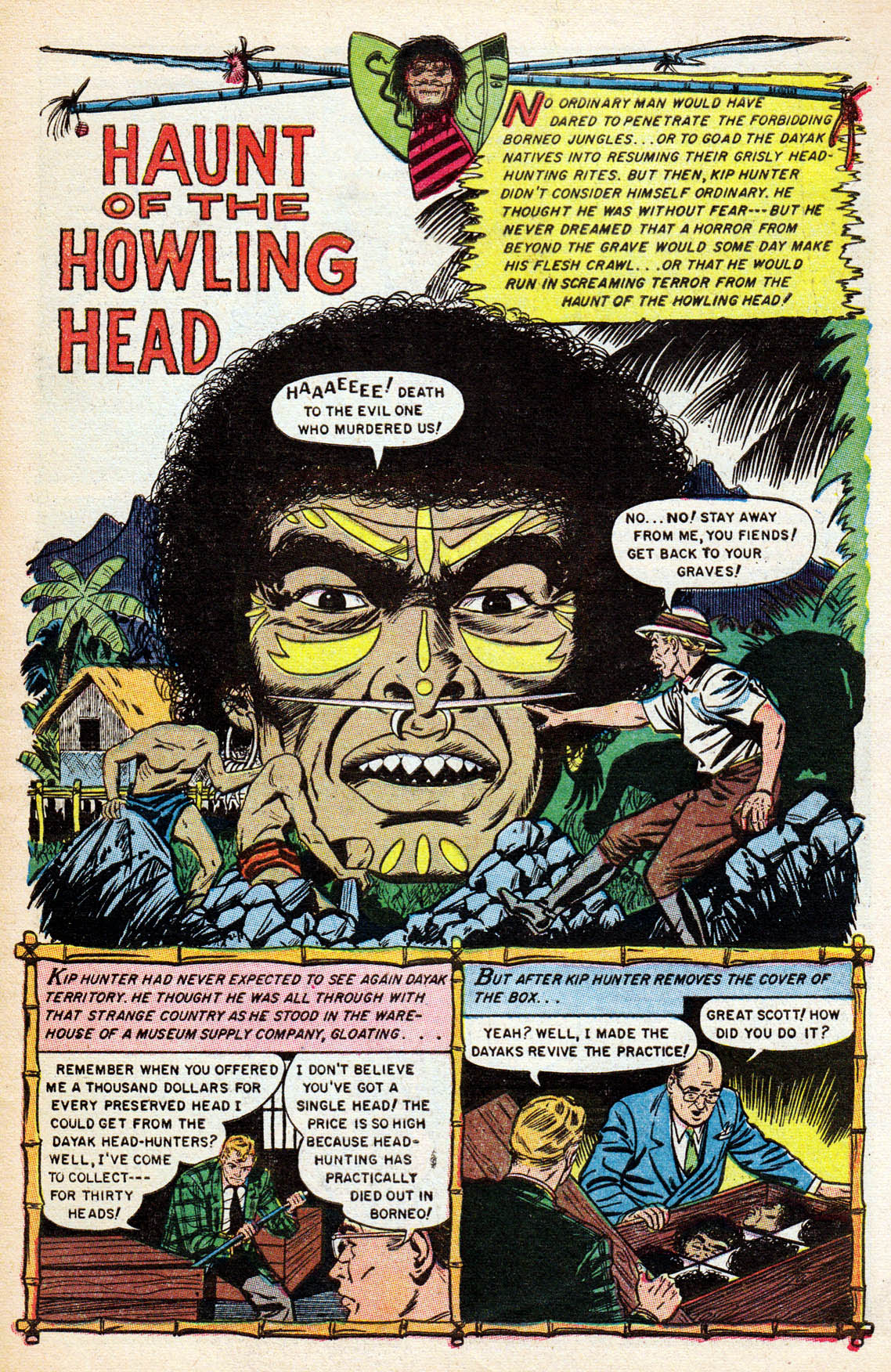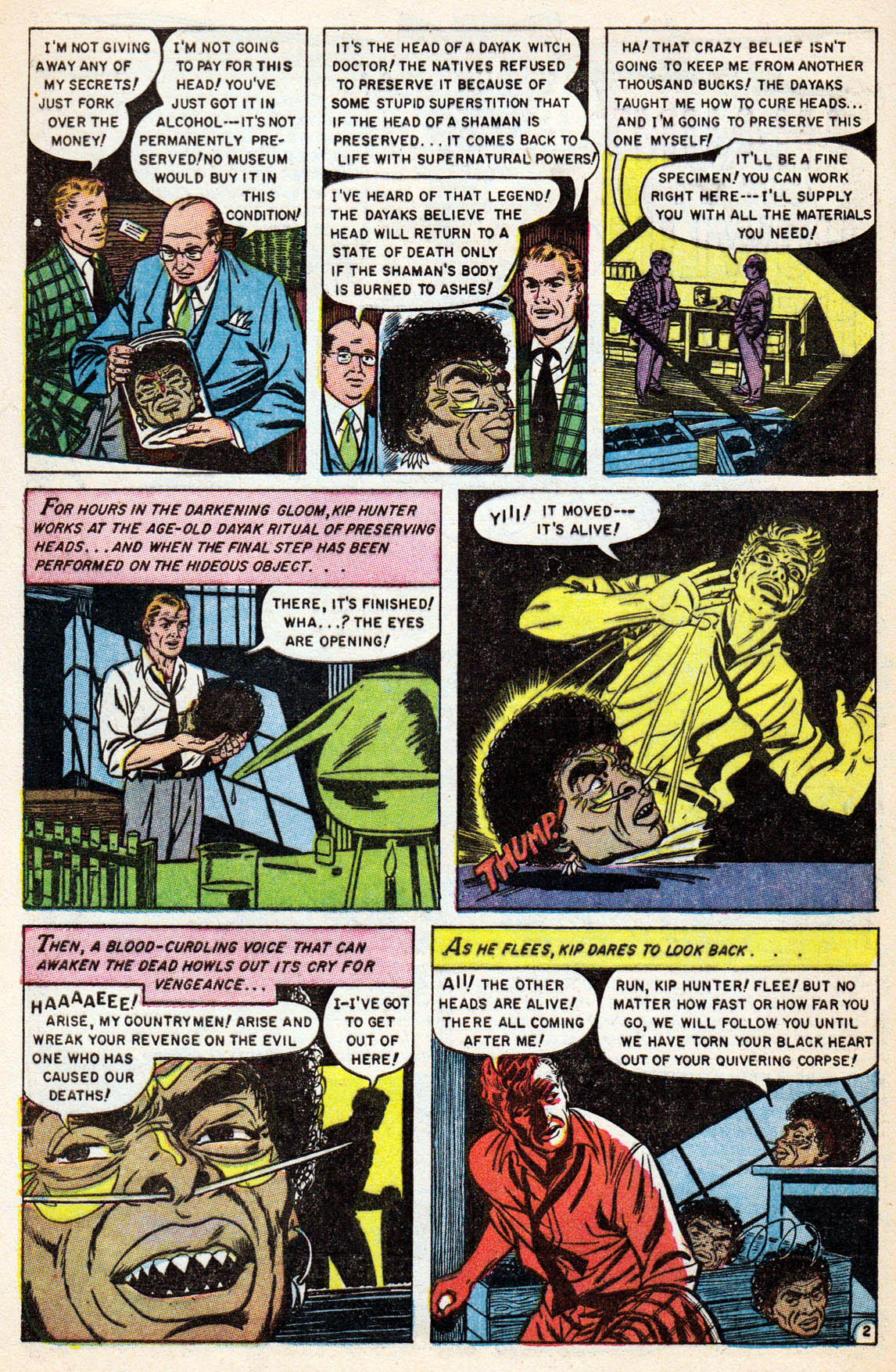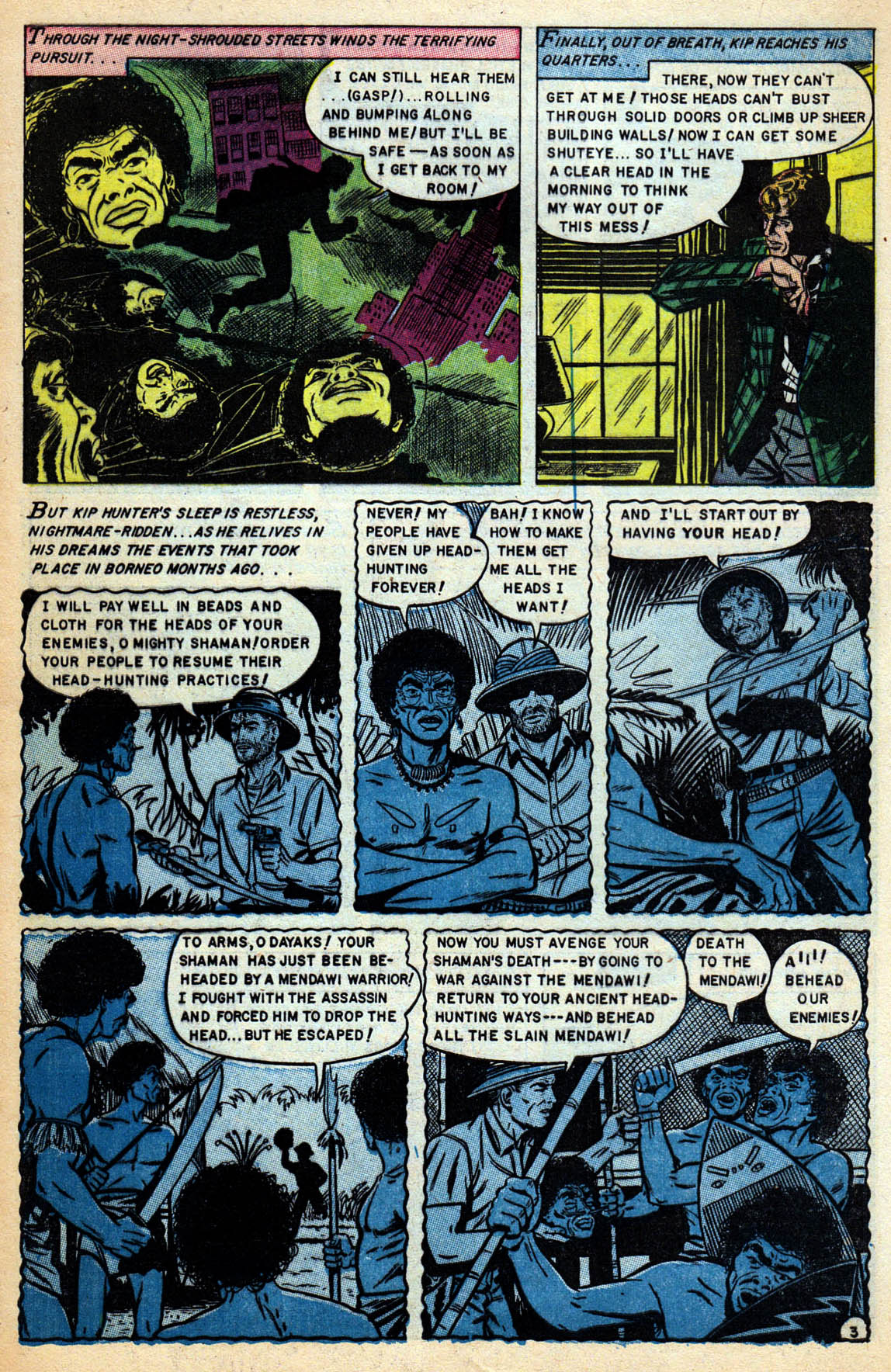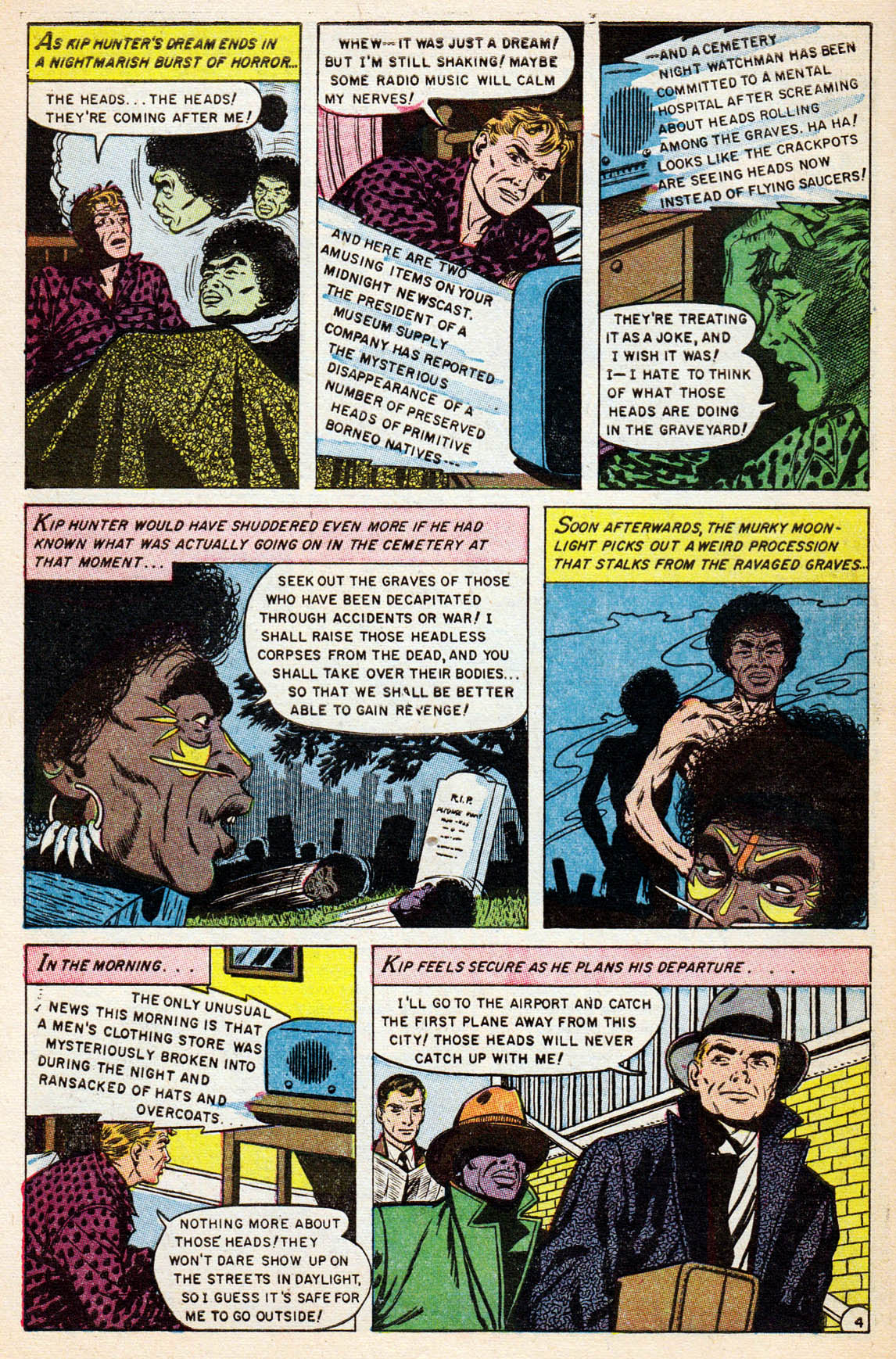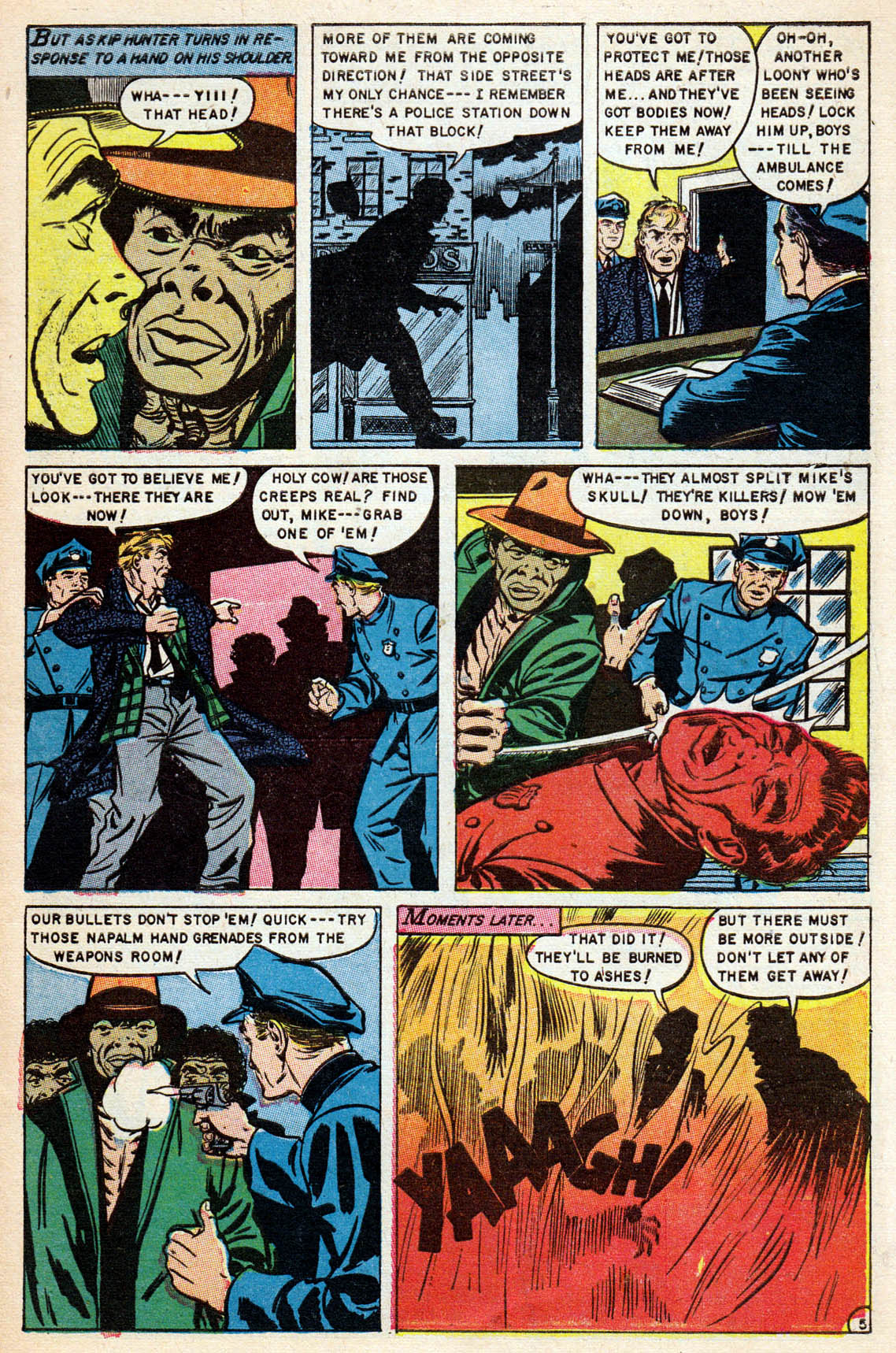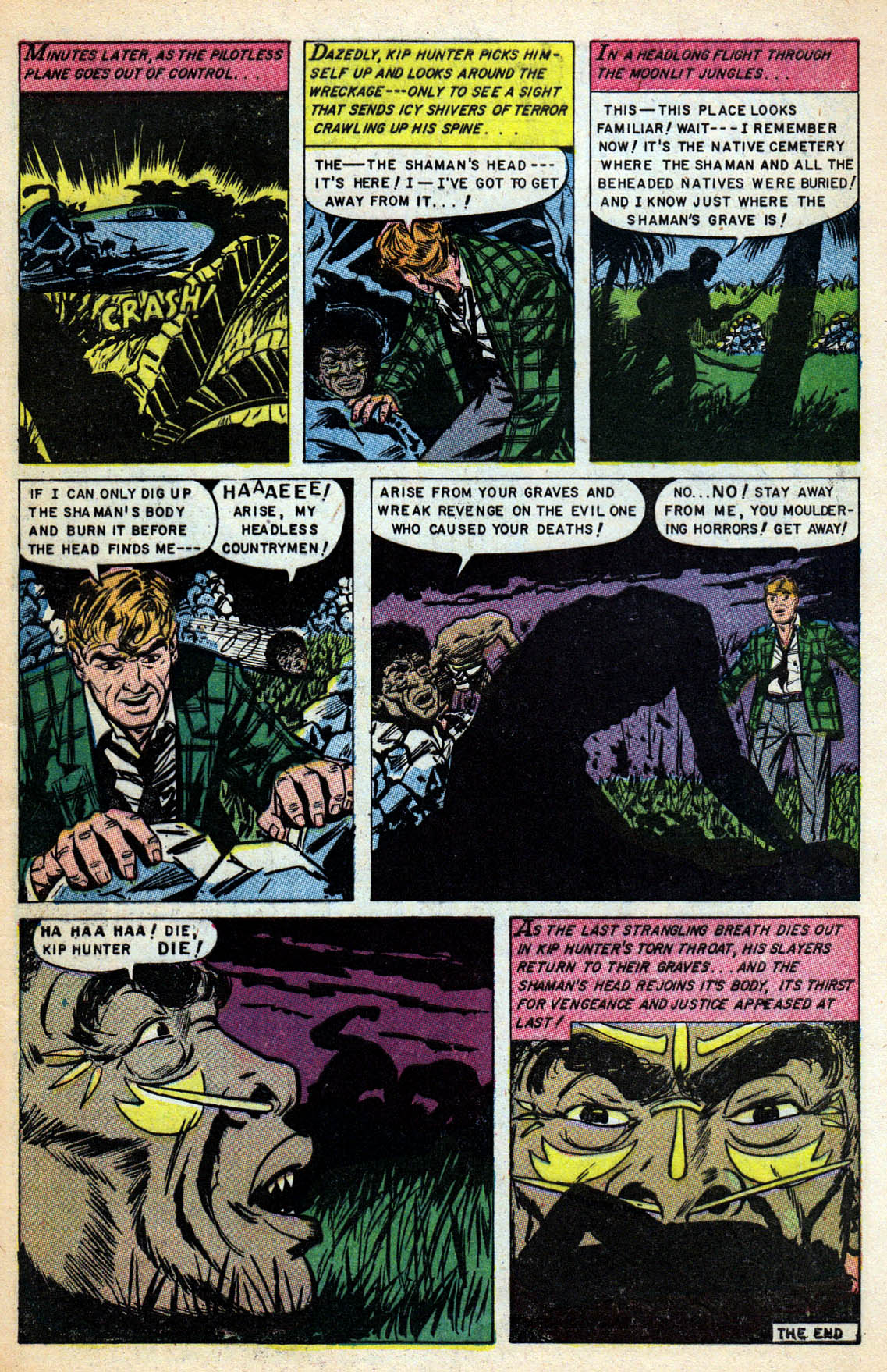 Zählen wir mal die Tollheiten dieser Geschichte auf.
Der eloquente Schamane auf Seite 2, die Leichtgläubigkeit der Eingeborenen auf Seite 3, die Dienstbarkeit des Radios auf Seite 4, der Einsatz von "Napalm-Handgranaten" im Inneren eines Gebäudes auf Seite 5, der große Handgepäckschwindel auf Seite 6 und der sanfte Flugzeugabsturz auf Seite 7. Comics schreiben kann so einfach sein!
Übrigens erschien "Haunt of the Howling Head" zeitgleich zu "The Tiny Heads", der brachialen Schrumpfkopf-Orgie aus THE CLUTCHING HAND
(Link führt zum Post auf FIFTIES HORROR). Zeichner Ken Rice bei Ace liefert auf jeden Fall die elegantere Fassung ab.
In beiden Geschichten darf man sich tüchtig wundern, wie zum Teufel sich Köpfe eigentlich BEWEGEN sollen?!
Sie rollen, sie springen, sie verfolgen Menschen. Sie graben kopflose Leichen aus, befestigen sich an der Wirbelsäule und hauchen toten Körpern neues Leben ein. Dann gehen sie Klamotten shoppen, schmuggeln sich an Bord eines Flugzeugs und hypnotisieren die Besatzung.
Hätte nicht ein findiger Nerd im letzten Jahrhundert die "Trash-Kultur" erfunden, Comics wären heute noch Schmutz und Schund. Zwinker.