(aus " Hand Of Fate" Nr. 8, im Dezember 1951 von Ace Magazines veröffentlicht)
In den louisianischen Sümpfen bezieht ein Wissenschaftler samt hübscher Assistentin eine Hütte, um ungestört forschen zu können. Na klar, Forschungsstandort louisianische Sümpfe. Und woran wird geforscht? Wie immer im Gruselcomic an einem "Wunderserum", das Tote wiederbelebt!
Der lokale Sheriff wünscht den beiden viel Glück, und Obacht vorm Geist von Captain Ferroc, der durch die Sümpfe spuken soll. Ein erster Test mit dem Serum macht aus einem Spatzen einen Monstervogel, der die Bude vandaliert, in die Deckenlampe kracht und einen Monsterkurzschluss verursacht. Um das Serum frisch zu halten (Kühlschrank ist ohne Strom), rennt nun die Assistentin mit dem Fläschchen in der Hand nachts durch die Sümpfe, stolpert und verschüttet das Zeugs ausgerechnet überm verborgenen Grab von Captain Ferroc.
Was dann geschieht, lesen Sie in dieser Seitenfüller-Orgie aus dem ersten Heft der Reihe HAND OF FATE ("formerly MEN AGAINST CRIME"). Wieder eine Internet-Vollscan-Premiere auf FIFTIES HORROR!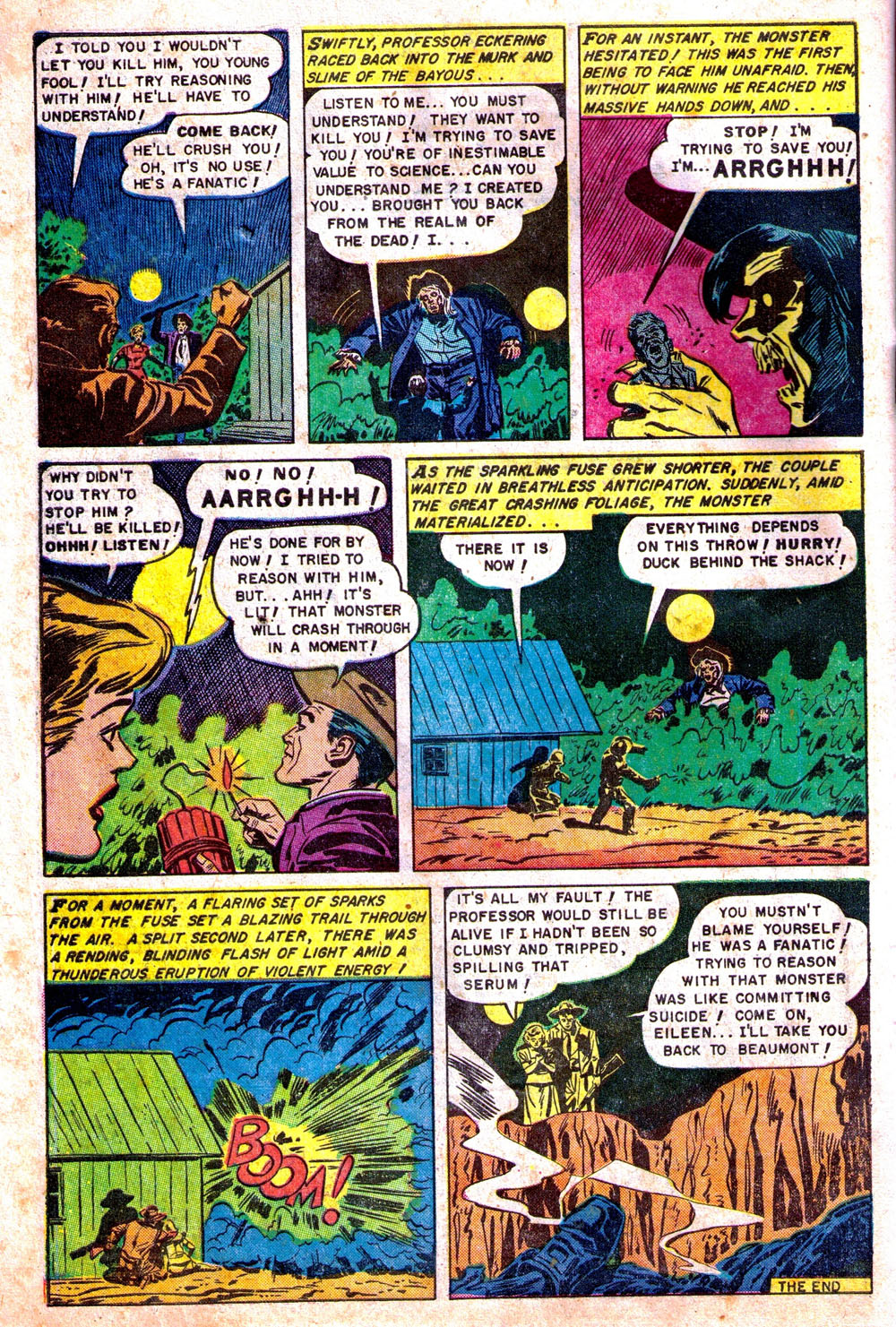 Story und Artwork sind (wie meist bei ACE) eigentlich ganz solide, aber was wird hier herumgekrempelt! Das Verschütten der Wundertinktur ist nichts weniger als köstlich, das Erscheinen eines Fünf-Meter-Piraten herrlich banal, dessen Abgang in einer Explosion dümmer als das Ende einer miesen Billigserie.
Meine Theorie: Hier mussten Seiten gefüllt werden. Ich bewundere, wie kunstvoll der Autor dabei zu Werke ging. Das Hin- und Hergelaufe von Hütte zu Sheriff und zurück zur Hütte (Seite 4/5) ist nur überflüssig. Weiteres Herumgestreune durch die Bayous (Seite 6) ist auch nicht eben handlungstreibend, und der Schluss verpufft (wortwörtlich).
Allerdings mag ich die Abgebrühtheit, mit welcher der Sheriff den Nachruf auf Professor Eckering gestaltet (Seite 7): "Er ist ein Fanatiker"… "Jetzt hat's ihn erwischt!"… "Er war ein Fanatiker". Und natürlich ist alles die Schuld der dummen dummen Frau: "Es ist alles meine Schuld! Der Professor wäre noch am Leben, wenn ich nicht so tollpatschig gewesen wäre, zu stolpern und das Serum zu verschütten!".
Herrje, sowas nennt man wohl "redundant".