(aus "Horrific" Nr. 5, im Mai 1953 von Comic Media veröffentlicht)
Ein verrückter Wissenschaftler wird in einer Bar verprügelt, weil er mit der Bardame knutschen will. Das aber nur aus streng wissenschaftlichen Zwecken. Also das Knutschen, nicht das Verprügeltwerden. Er wollte herausfinden, wie sehr er die Kussmuskulatur seiner Roboterfrau regulieren muss. Die hat er sich gebaut und erweckt, nun will sie ihn immerzu küssen. Der Professor schickt sie zum Probeküssen in die bewusste Bar, wo sie den Schläger von vorhin zu Tode küsst. Als die Androidin ins Labor zurückkehrt, wird sie von ihrem Schöpfer niedergeknüppelt und mit Säure begossen.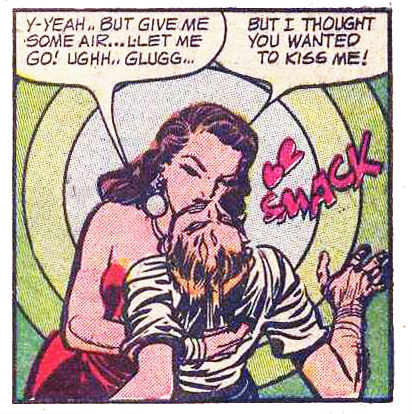 Nicht die feine Art, aber sie hat ihren Zweck erfüllt, außerdem bekommt der Professor Muffensausen vor einer starken Frau: "I was insane to think I could control a siren robot. My next model will be a man. At least they are emotionally stable". Sagt ein Mann, der gerade kaltblütig ein denkendes Wesen umbrachte. Der Roboter jedoch erweist sich als stärker als vermutet. Halb aufgelöst schleppt er sich in die Arme des Professors und holt sich noch seinen Kuss – den Kuss des Todes!
Eine meiner Lieblingsgeschichten. Mit kreativem Seitenlayout und sexy illustriert von Rudy Palais, dabei trotz aller Gewalt nie ekelhaft, präsentiert spinnerte und pubertäre Ideen, unlogisch bis zum Anschlag, herrlich!
Palais wie erwähnt in Hochform, deshalb diese Geschichte hier im Vollscan: