(aus " Out Of The Shadows" Nr. 13, im Mai 1954 von Standard Comics veröffentlicht)
Ein Kannibale geht um in London und versetzt die Stadt in Paranoia. Nur die leichtlebige Kellnerin Libby lässt sich nicht die Laune verderben. Sie geht mit einem mysteriösen Gentleman, der von allen für höchst verdächtig erachtet wird.
Kann ihr verschmähter Verehrer, der tüchtige Bobby Alf, noch rechtzeitig eingreifen?
Und mit diesem verbalen Cliffhanger entlasse ich Sie in diesen FIFTIES HORROR-Vollscan.
Eine der ruppigsten Geschichten aus dem sonst zahmen Standard-Verlag.
Da geht richtig die Post ab! Aber haben Sie sich auch gewundert, wie ein Menschenfresser seine Opfer in Minuten (Seite 5) bis auf die blanken Knochen verspeisen können soll? Mit Haut und Haaren, wortwörlich?
Das sind entweder Turbo-Kannibalen, oder man wollte den Lesern keine Essensreste anbieten.
Aber schön isses. Straighter Horror ohne Firlefanz. Das hat der Verlag nämlich zwei Monate vorher schonmal versucht – und vollkommen versemmelt. In "Feast Of The Ghouls" (aus den ADVENTURES INTO DARKNESS Nr. 13) wird die kannibalistische Handlung noch schwer verbrämt, indem sich die Menschenfresser in blauhäutige Unholde verwandeln, die nur des Nachts zuschlagen.
Klingt hier weitaus interessanter als es ist. "The Cannibal" ist die Geschichte ohne Schnickschnack, die geradlinig funktioniert und durch ihre Beiläufigkeit schockiert. "Feast Of The Ghouls" ist ein wirres Konglomerat aus Versatzstücken, das keinen richtigen Hebel findet.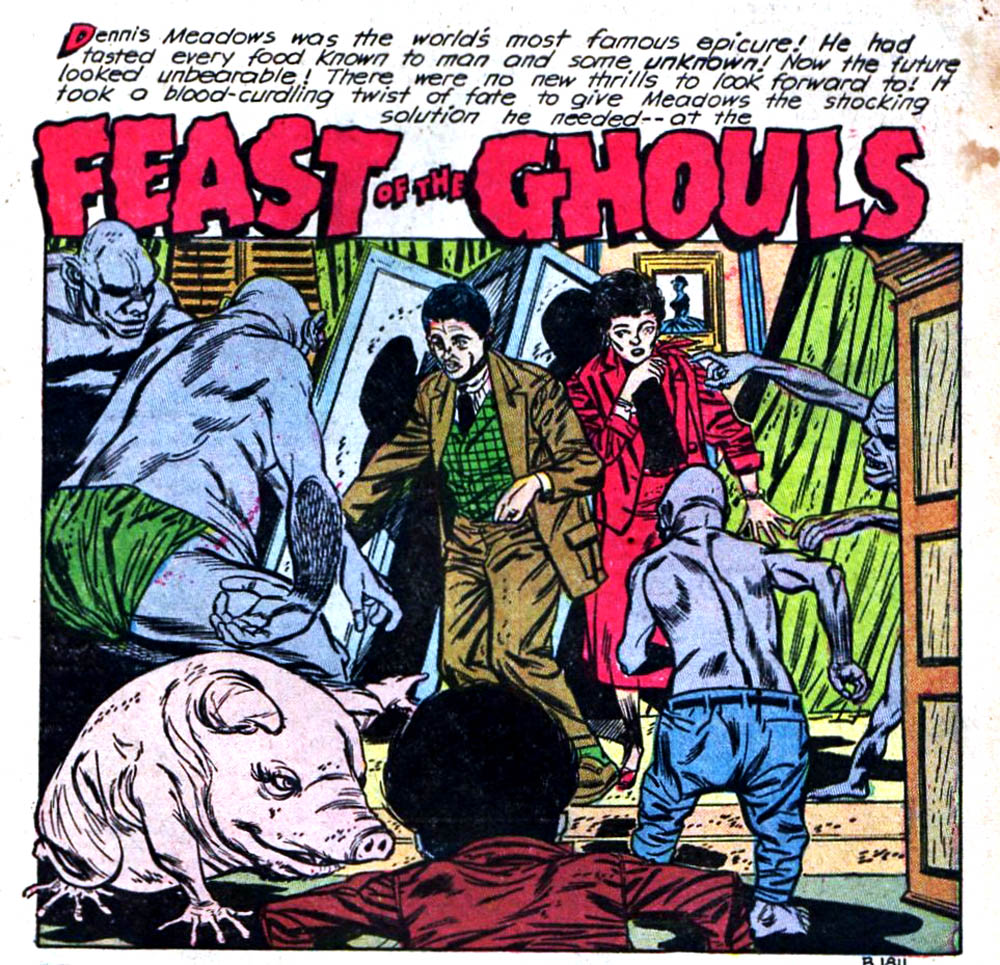 Jetzt sind Sie richtig heiß drauf, oder?
Ich poste diese Geschichte auf meiner neuen Spezialseite FICTION HOUSE & STANDARD HORROR. Wer mag, kann ja mal abgleichen. Zum "Festmahl der Ghule" geht es HIER.