(aus "Dark Mysteries" Nr. 18, im Juni 1954 von Master Comics veröffentlicht)
Meinen Recherchen zufolge ist diese Geschichte eine von dreien, die den Horror so real wie möglich werden lässt – denn sie spielt in einem deutschen Konzentrationslager!
Der sadistische Doktor Franz Burch tötet Häftlinge, um an ihren Leichen die Wirksamkeit einer Wiederbelebungsdroge auszuprobieren. Doch all seine menschlichen Versuchskaninchen sind bereits durch den Lageraufenthalt zu geschwächt, um ein taugliches Ergebnis zu liefern.
Also schnappt sich Burch den kräftigen Hausburschen Rolfe, der die Sympathien des Lagerkommandanten Paulus (und dessen Tochter Margaret) genießt. Burch lässt Rolfe totspritzen und beerdigen – in vollem Bewusstsein, dass Rolfe zuvor noch wiedererweckt wurde.
Raten Sie mal, wer kurz danach als Zombie vor Burchs Türe steht!
Online-Weltpremiere für ein krankes Pre-Code-Horror-Machwerk. Als Deutscher bin ich absolut nicht stolz darauf…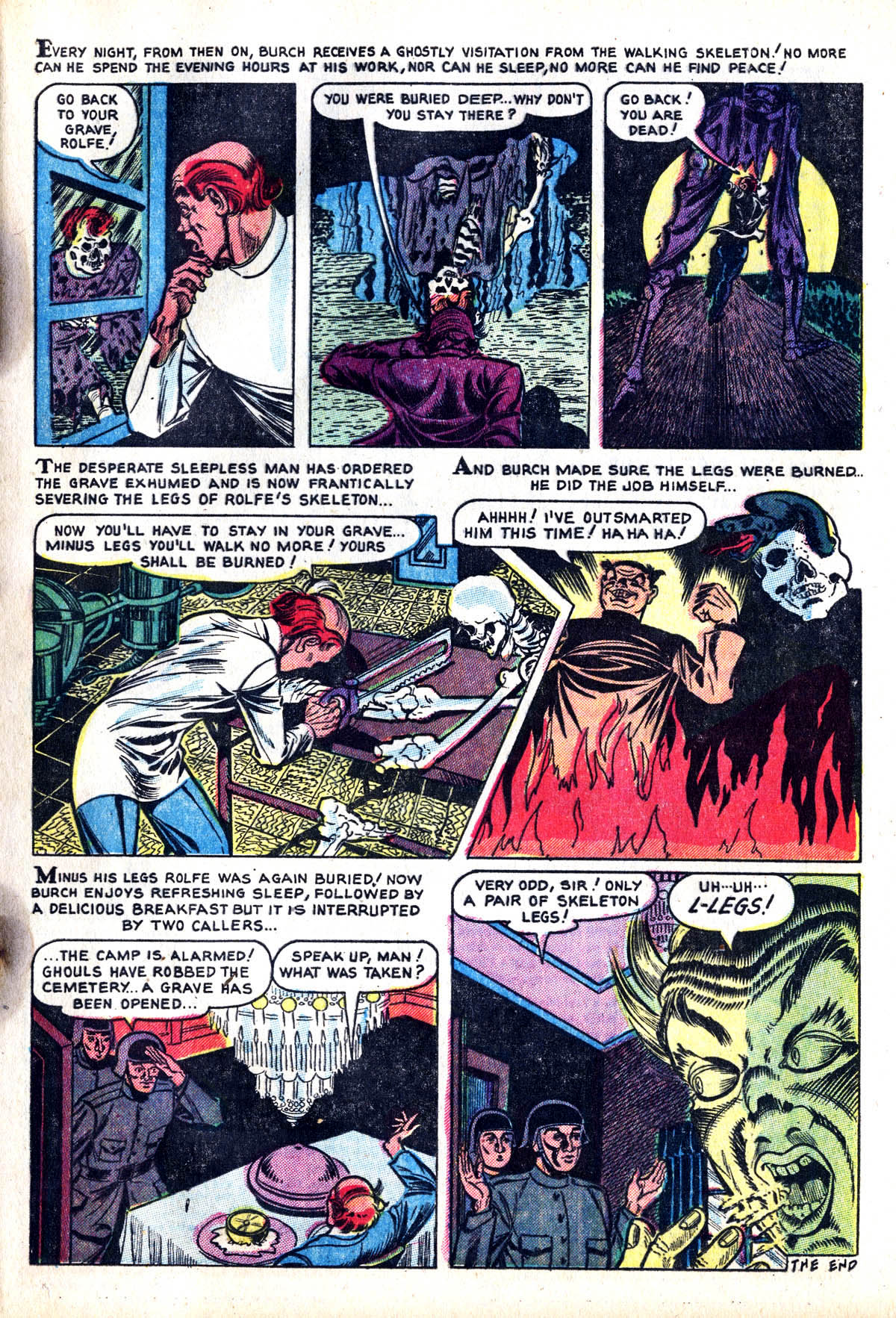 Der sadistische Dr. Burch ist wirklich ein fieser Charakter, schlimmere dürfte es selbst in der wüsten Comicwelt nicht gegeben haben.
Das Beachtliche an "Terror Of The Stolen Legs" ist die Verweigerung der Zombieformel. Wieso dreht der tote Rolfe seinem Peiniger nicht den Hals um?!
Stattdessen erscheint sein Skelett Nacht für Nacht – um genau was zu tun? Als harmloser Knochenhaufen herumstehen? Burch sorgt für Abhilfe und amputiert dem geduldigen Zombie die Beine. Clou der Geschichte (und ihr Ende) ist, dass sich Rolfe aus fremden Gräbern immer wieder fremde Beine beschaffen wird, um Burch bis an dessen Ende weiterhin heimzusuchen.
Wir müssen uns diesen speziellen Zombie als personifiziertes Gewissen vorstellen. Burch wird seine grauenhaften Verbrechen nie und nimmer vergessen können. Zugleich eine moralische Mahnung für uns alle. Ein einmal entfesseltes Grauen können wir nicht mehr abschütteln.